We are just a few days away from the five year anniversary of the death of my daughter, Becca. Like the rest of you, the first year was so very painful. The second year was shockingly worse, as if that were even possible! The third year was still painful, but the reality of having to learn who I was without my oldest child was setting in. Last year I did "okay," but this five-year-thing has me very fragile.
What is it that makes this so hard? Is it because five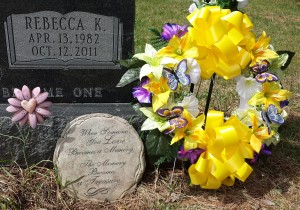 years seems such a long time? Is it because buried somewhere deep within me I know this is just the beginning? Is it because I have tried for the last three years to make sure my other children don't think I loved Becca more than them, so when at home I do my best to pretend I am fine 95% of the time? Is it because my previous son-in-law took down her Facebook page saying five years was long enough and we need to move on (like he has with a new wife and son) so now I can no longer visit her there?
Or is the real reason the simple fact that I gave birth to her, raised her for 18 years, had her for one of my best friends for the next 11 years, and then in one moment's time it was all taken away from me, and it just plain hurts, no matter how long it has been since she left us?
I find myself crying out to God at how desperately I still need Him for this grief I still struggle with. And what comes to me in the quietness of my soul is that a change in perspective can be very powerful.
Here are some of the things God reminds me of that can ease my pain, and make life livable again.
I am not getting further away from Becca with each year. I am getting closer to her, as each day brings me closer to my own departure to be with her again.
It's only stuff. Yes, it is Becca's stuff that I no longer have access to on Facebook, but no one can take away the part of her that lives forever in my heart, my mind, my memories… my very soul!
While 29 years was not enough, it WAS! It happened! I was blessed with this daughter who brought so much joy (and many challenges with her stubbornness) to my life. I can finally say I would rather have had her for only 29 years than to not have had her at all.
I still cry, I still hurt (sometimes very deeply), but I also rejoice that this life is only temporary. And that leads me to the last change in perspective I want to share with you.
The anniversary of Becca's death is also the day of her birth – her birth into a new body with both legs (her left leg was amputated because of bone cancer at age three) and a heart that is strong that no longer keeps her life so limited (since Becca suffered heart damage from the chemo, which is what eventually ended her life).  She didn't get someone else's used heart in a transplant that she so desperately needed here on earth. She got a brand new one that will never go bad on her again.
Painful grieving? Yes. But without hope? No.
So with that I will say, "Happy heavenly fifth birthday, Becca!"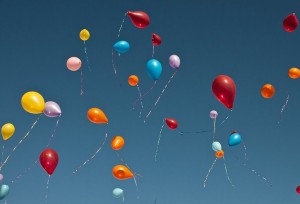 Expressions of Hope is written by author and speaker Laura Diehl to bring hope, light and life to bereaved parents, which she call pareavors. (Pa from the word parent, and reave from the root word bereave which means "plundered or robbed, deprive one of, seized, carry, or tear away.") This is a pretty good description of who we are and what has happened to us.
While you are here, please take a look around the GPS Hope (Grieving Parents Sharing Hope) website to discover all that is offered to grieving parents, including GPS Hope events that might be in your area.
Save
Save
Save
Save