We want to start by giving a huge THANK YOU!  Thank you for taking time to find out how to be there for your friend or loved one in a way that most people are not.
The most important thing we can tell you is to just be there for the parent who is facing the nightmare of the death of their child. Don't worry about coming up with comforting words. Don't feel like you have to be spiritual and remind them of scripture verses. Just be there, with a hug, with tears, with your presence.
One of the hardest things for a grieving parent, is to be with those who want to fix us by giving advice ("time heals all wounds"), a thought (they are in a better place now") or a scripture ("Remember God promises to work everything out for our good") that will supposedly make us feel better.
Unless you can bring our child back, you can't fix us or make us better.
WHAT YOU NEED TO KNOW…
Many times, in the first week or so, we appear to others as very strong. We may not break down much, and we may even bravely speak at the funeral of our own child, giving the appearance that we are doing really well. (People even tell us, "You are so strong. I couldn't go through what you are going through.") However, we are usually quite numb, and are living in the fog of auto-pilot. We know if we allowed ourselves to feel the full load of what has just happened, we would not be able to function.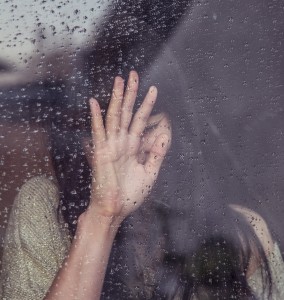 And that is exactly what happens when everyone else goes on with life a week or two later, and we are left with the shock that this is real, and our child is never coming back.
Most people don't realize the death of a child is considered a trauma. Therefore, the parent you are wanting to help is dealing with traumatic grief. Often there is PTSD that comes with it, depending on how the child died, if the parent saw it happen, found the body, etc. This is important to know, both at the beginning, and weeks, months and even years down the road.
Another thing most people don't know, is that for those who have lost a child from this earth, five years and under is considered fresh grief. So please don't expect that parent to be back out into society, back to the way they were and living a "normal" life again for at least a good two to three years. And even when that starts to happen, life will never be the same for that parent. Having a child "amputated" from us changes us as a person. We will not go back to the person we were before our child died. Can we get to the place where we are no longer a mess, and able to live a life of purpose once again? Yes, but that is because we have journeyed through the grief on our own timetable, not on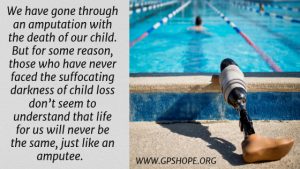 one the people around us think we should be on, especially those who have never faced grieving the death of your own child. Please be aware that we will have certain family events that will just be too painful to attend for many years, and have grief attacks that will sneak up on us for the rest of our lives.
And don't be afraid to talk about the child who has died, thinking you will just make the parent hurt more and start crying. I guarantee that we are already thinking of our child; we can't hurt more than we already do, and even if it makes us cry, we would rather cry because people are remembering and sharing our child with us than cry because no one wants to talk about our deceased child with us.
Another crucial thing is for grieving parents to connect with others who have been right where they are. Chances are pretty high that the grieving parent you know and love feels like no one understands what they are going through or understands the depths of their suffocating darkness that makes them want to leave this earth themselves (even if it is obvious to you they still have so much to live for, often including their other children). Remember, this is traumatic grief, and things won't make sense, even to us in our grief! Timing is important, but for most grieving parents, the sooner they can get connected to other bereaved parents who are further down the road, the less isolated and alone they feel, which is needed to move toward getting to a place of hope, light and purpose once again.
I know some people have the thought, "Just tell me what to say or not to say!"  If that is you, at the bottom of this page, be sure to request a free PDF of Eight Things Not to Say to a Bereaved Parent.
HOW CULTURE, AS A WHOLE, TREATS A GRIEVING PARENT, AND HOW THAT AFFECTS US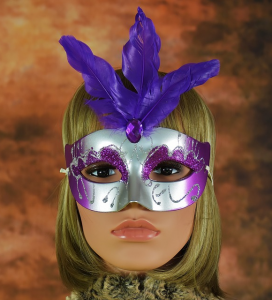 Our culture does not handle grief in a way that is helpful to those of us who have faced a deep loss.  They often see it as an event instead of the process that it is, which can take weeks, months and even years, to not be affected deeply by that loss, especially the death of one's child (no matter the age of the child).  Most people push us away as our continued pain and tears make them uncomfortable and we are told we should be over the death of our child by now.  (Just stab us in the heart and twist the knife please….)  So we learn to wear a mask and say everything is fine.
ATTENTION: Physically, grieving parents have a compromised immune system that causes them to pick up sicknesses easily.  Their brains go through chemical changes, causing them to be easily confused, klutzy, and extremely forgetful.  Emotionally, they are very raw and easily upset, erupting suddenly into tears or anger.  People around those in deep grief need to know how to allow for these changes, especially the things that are hurtful to say and do.  And all of this is for the first three to five years!
This is surprising to most people, because they don't have an open door to see behind the mask we grieving parents are eventually forced to put on for others. Since it becomes our "duty" to make the people around us comfortable with our pain, we become experts at fooling those around us into thinking we are strong, and that at some point we are okay and have pretty much forgotten about our child, leaving them in our past like everyone else has.
What that means is that as grieving parents,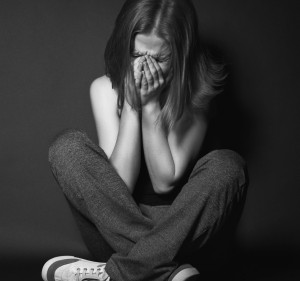 we do a great job at shutting others out of our world of darkness, confusion, and suffocating pain. Unless you have lost a child, you probably have no idea how many tears still fall years later, and how painful it is to feel like no one cares or remembers that our child once lived on this earth.
Here at GPS Hope, you will find insight into the things a bereaved parent faces on a day-to-day basis that others don't think about, which explains why they will never "get over it" and why they will never be the same person they were before the death of their child.  You will find out why bereaved parents often isolate themselves, even many years later. Knowing these things, is critical for the long-term support of anyone who is in long-term grief, and the best way to be informed, is to enter our world and be willing to help carry our pain, not try and get us to pretend it doesn't exist.
The subject of death itself can be heavy, and the death of one's child, no matter the age, is considered by most experts to be one of, if not the heaviest and darkest grief to be faced.
We are not calling attention to this information to diminish the grief of other forms of deep loss. This is an area that probably causes the most tension with those who have not lost a child, but have experienced a significant loss in their lives. If the most painful grief you have experienced is the loss of your furry companion of seventeen years, then that is what you will measure other's grief to. (However, a word of caution:  don't EVER tell a bereaved parent you know what their pain of the death of the child they birthed and had life-long plans with is like, because of the death of your dog or cat. That is probably the fastest way possible to immediately get shut out of their lives…just saying…)
Comparing the pain of our grief does no one any good.  However, I think it is important to validate the fact that parents who have lost a child through death, have a weight that is extremely heavy…heavier than most will experience in this life.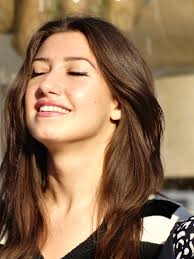 Those of us here at GPS Hope have eventually found light in our suffocating darkness, and most of us have even gone on to live a full life, once we figured out how to function with our unwanted "amputation" – but it takes several years to get to that point. We will do our best to give you the tools and resources needed to have compassion at a level that will truly help the bereaved parents in your life, and be a strength to them at their deepest level of need.
Once again, thank you for being a person of compassion who wants to know how to truly help a bereaved parent. It means a lot to us…more than we can say.
Resources: