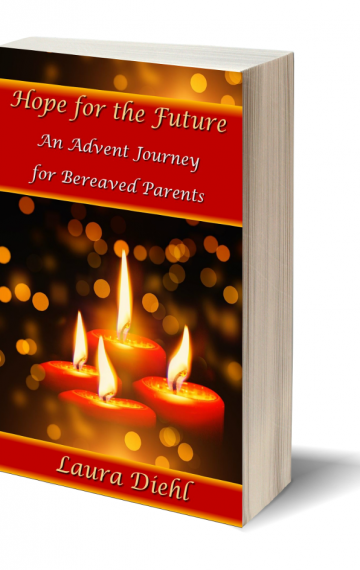 List Price: $12.99 see our store for discounted prices!
Publisher:

Crown of Glory Publishing

Available in:

Paperback, eBook(pdf), Kindle

Published:

January 6, 2018
GET MORE DETAILS
BUY NOW! ( paperback)
BUY NOW! ( downloadable PDF format)
For those who have faced the deep loss of a child, no matter the age of that child, the Christmas season can be a time of darkness, confusion and despair. Those who have a faith in Jesus Christ are not exempt from the overwhelming grief that can last for several years when one buries their child.
Bereaved parent and author, Laura Diehl, knows all too well how important it is to be determined to allow the Holy Spirit to speak words of comfort and hope to a grieving parent's heart during that time of intense suffocating darkness.
In Hope for the Future: An Advent Journey for Bereaved Parents, Diehl uses the advent wreath to help bring God's hope, peace, joy and love back into a grieving parent's life. This is not in spite of the Christmas season, but because of it, reminding the reader that the reason Jesus came to earth is to bring light into our place of darkness.
(Hope for the Future can be used along with an advent wreath and candles, but is not necessary.)
Also available at your favorite bookstore…