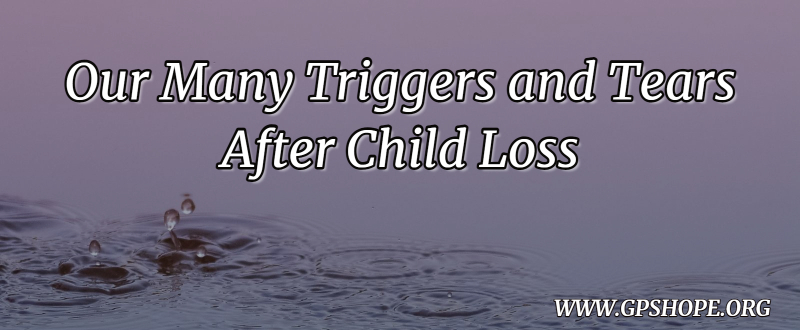 Note: This blog was adapted from Chapter Three: The Garage of Tears from the book When Tragedy Strikes: Rebuilding Your Life With Hope and Healing After the Death of Your Child.
Some of the worst times those first few years after my daughter, Becca, died were when I thought I saw her somewhere and got smacked once again with the crashing realization that it couldn't possibly be her.
For me, the motorized scooter carts in a store still trigger the thought of my daughter. Even just hearing someone the next aisle over in one of those carts can give me a shocking reminder of my loss. I have had to fight tears so many times when I'm out shopping because of triggers like this.
Sometimes I "win" and can escape without crying, and sometimes I don't as the tears spill down my cheeks. I sometimes wonder, why don't I ever see anyone else in the store who looks like they're crying? Or am I the only one who struggles with this?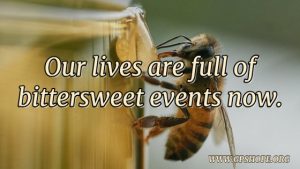 There are so many bittersweet events now. Almost one year to the day of Becca's death, we had the blessing of a new little granddaughter coming into this world. She was given the name of Becca as a second middle name. And since then, we've had several more grandchildren come into this world, who will never know their Aunt Becca. Like I said, bittersweet.
One of my sons got married six weeks before Becca passed away. This is the only sibling who will have the blessing of having their older sister be part of that major life event. Weddings are supposed to be a day full of joy and celebration. Like I said, bittersweet.
Sometimes when I feel the heaviness of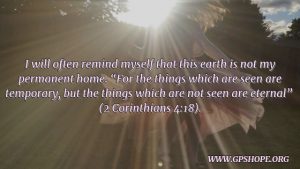 grief trying to come in, I will pause and think of my beautiful Becca inheaven. She is experiencing the greatest celebration of all. I will remind myself that this earth is not my permanent home. "For the things which are seen are temporary, but the things which are not seen are eternal" (2 Corinthians 4:18). At some point, life on this earth won't matter, and we will all be united for eternity. What a glorious day that will be!
But until then, this is where we are, and we have to learn how to deal with life on this earth. The death of a child changes our lives, and it changes us more than anyone can even imagine. Only those of us who have experienced it can know what that means. And it is not that we are trying to elevate ourselves above someone who is grieving a different loss, such as a spouse or a parent. We would gladly not be a part of this elite club if there was any way possible to get out of it.
Is There Such a Thing as Grief Recovery?
In my searching for how to deal with my grief, I came across an article called "Grief Recovery." As I started reading it, I discovered it was for any kind of loss including jobs, moving, pet loss, death, divorce or any kind of breakup, starting school…
It talked about how recovery is when we can have memories without the pain. I had a hard time reading it without getting angry. It is just impossible to compare grieving the death of a child to all these other things.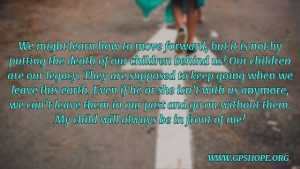 I'm not saying those things are not painful and that there is not a level of grief involved. I also know from others, as well as my own personal experience, that we can (and do eventually) get to a place where memories can warm our hearts instead of causing a stabbing pain. However, this article seemed to be saying that after you grieve the right way, you can move on with life and put the past behind you.
I might be able to move forward, but it is not by putting the death of Becca behind me! She will always be in front of me. Our children are our legacy. They are supposed to keep going when we leave this earth. Even if she isn't with me anymore, I can't leave her in my past and go on without her.
Even if we wanted to do so, the things that trigger us and remind us of our loss can come unexpectedly out of nowhere and bring back the memory, accompanied by unwanted pain once again.
I am a parent who took a lot of trips to the gravesite for probably a year or more. One day while I was there, the med-flight helicopter flew over me. I totally lost it and found myself sobbing uncontrollably. Later, I wrote on Facebook about what had happened, and a friend told me it was a sign of PTSD (Post Traumatic Stress Disorder). I guess it made sense.
For many, many months after Becca passed, whenever I heard an ambulance, I would freeze in panic and my mind would immediately question, "Where is Becca?" And of course, there was always the realization of where she was, and the siren I was hearing was definitely not for her. Some days I am okay with that, other days…
The first year of special dates is always difficult for anyone who has lost a loved one, but for a parent who has a child missing it can be almost unbearable. For us, Thanksgiving came first and brought with it the memory of how the year before, Becca had insisted on hosting the family, even though she was wheelchair bound. Then came Christmas, Becca's favorite holiday, and then the pain of the first time she was not there to celebrate her birthday, and so on. Eventually it came around to the one-year anniversary of her death. Of course, all of those came with many tears. Some of them still do, years later.
It has taken me an entire lifetime to learn that tears are a gift from God. Yes, I know some people can't seem to cry. But that is not the case for me. Tears have flowed freely and easily for me all my life. I now know that if I don't allow myself to cry, it means I have allowed my heart to get hard. I have done that before and will never do it again!
Jesus knew that when His dear friend
Lazarus died, it was only temporary. And yet we know Jesus wept. If you want to cry, go ahead and cry as hard as you need to. Park your car in the garage and have a good cry. Let your tears be the gift God gave them to be, allowing them to wash away some of the pain.
You can go back to the garage of tears anytime, and as often as you need to. You have full permission from someone who gets it.

This was just part of a chapter in the book When Tragedy Strikes: Rebuilding Your Life With Hope and Healing After the Death of Your Child. To listen to the full chapter The Garage of Tears being read by author, Laura Diehl, click here.
Did you know that GPS Hope has three Guidance Courses based on Laura's book When Tragedy Strikes?
How Do I Even Start to Rebuild My Life?
Working Through the Darkness
Looking Toward My Future
Click here to find out more about each one.
During the month of July, we are running a special. When you purchase the audio book you can purchase all three courses for the price of only two! Click here to get the promo code after purchasing the audio book from your favorite retailer.
Expressions of Hope is provided by Grieving Parents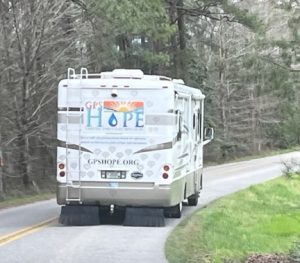 Sharing Hope (GPS Hope). The founders, Dave and Laura Diehl, travel full time in their Hope Mobile (a 38-foot motor home) to be more easily available for speaking and ministry requests, and bringing intimate weekend retreats to bereaved parents. Laura is also a singer/songwriter and the author of multiple award-winning books.
If you would like more information about bringing Dave and Laura to you for an event, please send an email to office@gpshope.org.
If you are interested in bringing GPS Hope to your area for a weekend retreat click here.