After our daughter, Becca, died, I knew there was no word that could even come close to describing my pain. At the same time, I wondered why there is not a word for those of us who are living here after the death of our child. Someone who has lost their parents is an orphan. My son-in-law became a widower, and of course, a woman whose husband has died is called a widow.

This started to really bother me.

I think it is important to have a word that validates the fact that parents who have lost a child through death have a weight that is extremely heavy…heavier than most will experience in this life. Not as a label to give us permission to wallow in our deep sorrow, but one that draws us together to be able to strengthen and encourage each other within our life-long club membership that none of us wanted.

One day I sat down and listed all the words possible for parents, grief, bereaved, children, etc. to see what I could put together as a word for a grieving or bereaved parent, and that is how I "discovered" the word PAREAVOR. How did I come up with this?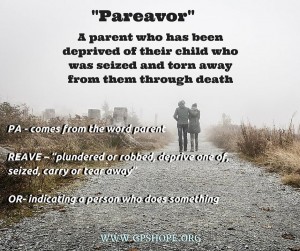 "Pa" comes from the word parent: a person who is a father or mother; a person who has a child (Merriam-Webster)

"Reave" comes from the word bereave. The meaning of the actual word "reave" (which the word bereave comes from) is: to plunder or rob, to deprive one of, to seize, to carry or tear away (Merriam-Webster).

"Or": indicating a person who does something (Wiktionary)

This sounds like a pretty good description of what happens when our child dies, no matter the age of the child. So, I call us pareavors: we are parents who have been deprived of our children who were seized and torn away from us through death.

I have met several bereaved parents who love the word, but were not sure how to pronounce it, so let me share that with you as well.

"pa" is pronounced like the u in puff
"reav" is pronounced like it sounds in the word bereave
"or" sound is the typical "er" sound like mother
pu reav' er = pareavor
Feel free to steal the word and use it, if it resonates with you.

And if you ever see us, please ask about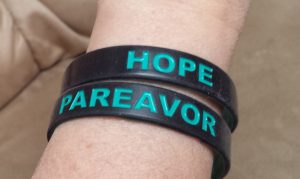 our pareavor/hope bracelet. We would be happy to give you one to wear, as a way to connect with others who are in this same club. It is also a visible reminder we often need that we are not alone, and there is always hope.