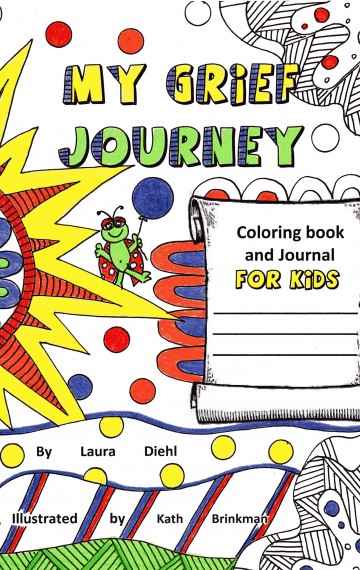 List Price: $12.99 see our store for discounted prices!
Publisher:

Crown of Glory Publishing

Published:

October 4, 2017
BUY NOW!
GET MORE DETAILS!
My Grief Journey: Coloring Book and Journal 

(FOR KIDS)

By Laura Diehl and illustrated by Kath Brinkman

Do you know a child who has faced a deep loss, such as the death of a parent, sibling or grandparent? Are you looking for a way to help them sort out their thoughts and emotions?  My Grief Journey: Coloring Book and Journal for Kids is for any age (including adult "kids") who are learning how to live after the death of someone dearly loved and deeply missed.
It is different from all the other coloring books out there. Each coloring page has a word surrounded by beautiful artwork which is intentionally hand drawn. Each word has two pages to help the child think about and explore a specific word or emotion (such as helpless, fear, memories, hope, comfort, truth, thankful, etc.) through coloring, drawing and writing. The coloring page has a scroll with a "prompt", to help them get started in thinking how they might feel about something. The prompt can be answered inside the scroll by either writing or drawing. We have also included an extra page for each word to allow more room for drawing or writing.
This book is a simplified version of My Grief Journey: Coloring Book and Journal for Grieving Parents, using twenty-nine of the forty-two words (and adding one word not in the adult book). This was done intentionally, so that a parent and child can do many of the pages together if there has been a sibling loss for the child.​​