Do you want to have a part in helping grieving parents heal?  There is a very simple way, and it is to give a Gift of Hope.
The death of a child can cause a lot of financial hardships on families.  Not only are there the unexpected funeral and burial expenses that costs several thousands of dollars, there are always medical expenses that preceded the death, whether it was an emergency situation or a long term illness.  It is heartbreaking when we watch a mother stand at look at our books with longing, and slowly put them all down because she cannot afford to purchase them.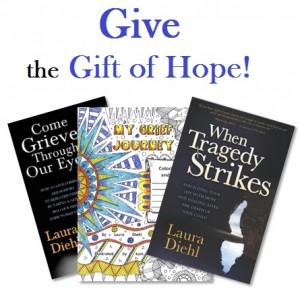 You can be the light of hope for these precious parents.  For a tax deductible gift of $35, we will set aside what we call our tri-pack, to give to someone who wants the help and hope these books give, but does not have the finances to buy them.
The Gift of Hope tri-pack provides the following three books:
When Tragedy Strikes
My Grief Journey Coloring Book and Journal
Come Grieve Through Our Eyes
Just CLICK HERE to be taken to the store where you can give a Gift of Hope.
Thank you so much for helping us in comforting the broken hearted!
If you prefer to send a check directly to us for this Gift of Hope or any other donation, please make it out to GPS Hope and mail to:
GPS Hope
PO Box 264
Janesville, WI 53547