Happy summer! Summers are always a great time of the year: graduations, retreats, mission trips, family picnics and vacations.
People often forget that serving God should be fun. No matter what we do – whether we're working our jobs, raising our families, growing our businesses, or serving in ministry – joy is one of the fruits of the Spirit that should be manifesting in our lives, and His joy is to be our strength.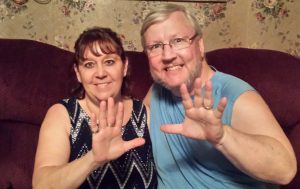 So much of what's out there these days lacks personal connection. Most people are simply afraid to really be themselves. I thought I'd have a little fun with this update, put away the polish, and share another side of Dave & myself and the work we do in order to prove we're very real and human, and not always serious.
Here are 10 of our quirks, some closely guarded secrets, and some weird trivia we hope you will find interesting.
Laura
1. I fell out of a second story window at 3 years old, landing on the ground below, with no broken bones or major injuries.
2. I only liked the smell of coffee (couldn't drink it, yuk!) until just a few years ago, when my daughters introduced me to coffee shops with flavors to vastly improve the taste. My two favorites are white chocolate peppermint, and pumpkin spice.
3. I have reading glasses from the Dollar Store in almost every room in my house, so it doesn't matter if I misplace them.
4. One of the memories my kids still like to laugh about me doing (and still share with others) happened in the day of cordless house phones. I was hitting the button on the receiver stand to make the phone beep, so I could find wherever someone had left it lying in the house from last using it. Everyone started laughing at me, because the phone was hung up on the stand right next to the button I was pushing.
5. When I was really little, I wanted to be a clown when I grew up, and would stand in front of the TV and imitate them.
Dave
6. I used to embarrass my mom when I was a toddler. Evidently, I loved the feeling of the ears of our two English Setter hunting dogs in the back yard. My mom would hear them yelping and whining, come to the back door and yell "DAVID! STOP BITING THE DOGS!"
7. When I was three I was playing jack-in-the-box with my friend in a suitcase. I ended up locked in the suitcase and miraculously my mom turned off the vacuum cleaner upstairs and heard my muffled cries for help before I passed out. I would never again be a jack-in-the-box, and choose a different vocation later in life.
8. At age nine, I amazed my family by winning a 2nd place trophy at a local golf tournament. My brother was less impressed when he discovered there were only two people in my age bracket.
9. My wife and I own an NFL team. Yes, we are shareholders of the Green Bay Packers! Even though our shares have no financial worth, it is by far my favorite investment.
10. We were married April 28, 1984 which happened to be the last time daylight savings time started at the end of April. I have forever felt robbed of losing an hour on my wedding night!
Okay, I'm headed back to get some work done, but I'd love to hear a bit about you! Here's to summer fun 🙂
Summer is a good time to make an effort to slow down and enjoy life. If you would like some ideas on how to do that, we would like to send you Seven Tips on How to Slow Down and Enjoy Your Life. Just submit your information below.