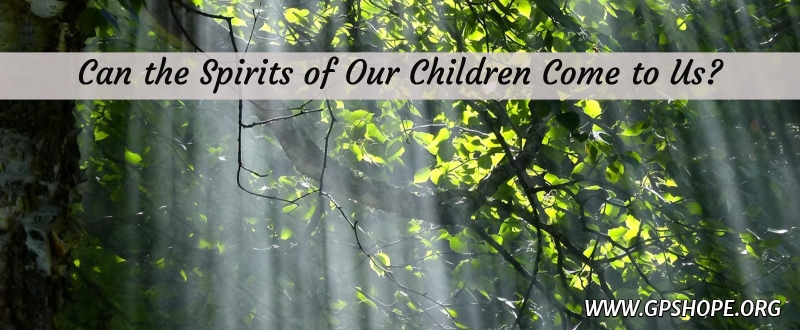 The other night Dave and I went out to supper with a couple who recently lost their son from this earth. One of the questions she asked was, "Do you think our kids' spirits can come back and visit us?"
She shared a situation where two of them had an impression in their spirits that he was there at a profound event at a certain place for a few seconds, very happy with what was happening. Plus, there was another time this mom sensed her son's presence in a very real and almost tangible way.
These are not "flaky" people. They are very rooted and grounded in their relationship with the Lord, and spiritual leaders and pillars in the Body of Christ. They are sensitive to the voice and presence of the Holy Spirit.
It reminds me of an email I received recently:
I have a question; do you ever feel like your daughter's spirit is around you? I always feel like she is around me. Sometimes I get confused, like I wonder did she ever cross over or does she just come back to visit? J.A.
It really is such a good question, and one that I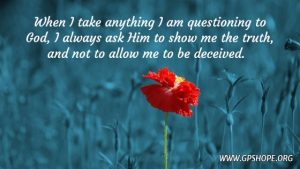 find interesting to answer. Since it comes up so often, I finally decided to share my thoughts on this subject in a blog.
First, let me say that God makes it very clear we are NOT to go to mediums or try to call up the dead (Deuteronomy 18:9-11). That is dangerous and opens the door for the demonic realm to approach and deceive us, letting darkness have an influence in our lives disguised as light and hope. But that is not what I am talking about here.
I know strong Christians who are positive they occasionally feel the presence of the spirit of their loved one who died and no longer has a bodily form. These Christians have not sought after them as a spiritual being. They are not going to psychics or mediums to try and hear from their loved ones. But at some point, usually quite unexpectedly, they suddenly just "know" that their child or loved one is in the room with them, usually very close by.
When I started hearing these stories, I realized it was not my job to judge, but to be like Mary, and quietly ponder those things in my heart, taking them to God. And in doing this for several years now, I have only recently allowed myself to begin to explore outside of what I was taught, that when a person dies, they leave this earth and we are totally separated until we ourselves die. Period. That's it. End of story.
I didn't allow myself to even remotely consider anything else because I have been afraid of "being led astray" and seeing something because I want to see it, allowing myself to be deceived. But when I take anything I am questioning to God, I always ask Him to show me the truth, and not to allow me to be deceived. So, I have to believe that He will honor that, and the Holy Spirit will help me sort it out without going down the wrong path on the questions I put before Him, including this one.
So, let me take a deep breath and say that I have begun to believe that it is possible that our children's spirits have opportunities to visit us, for the specific purpose of bringing comfort, peace, or whatever our need is for that moment. And there are places in the Bible that support this.
First, we know there are spiritual beings, angels and demons, all around us. We are surrounded by a spiritual realm that is even more real than the earthly realm we live in.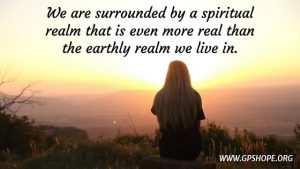 Remember when God opened Jacob's eyes to see a ladder to heaven with angels ascending and descending (Genesis 28)? So, if our children are no longer contained by their bodies, isn't it possible that God occasionally allows them to ascend and descend as spiritual beings also, if there is a purpose for it?
Then there is the time when Moses and Elijah came to earth to speak with Jesus before His death (Matthew 17).
And how about the "great cloud of witnesses" that Hebrews chapter twelve talks about, referring to the entire previous chapter of those who had died? Is it just those in Hebrews 11 who are in that group, or is it everyone who has died and now has full access to the Father as a spiritual being without bodily limitations?
We are three-part beings. We have a soul (our mind, will and emotions), we live in a body, but we are a spirit being. Jesus was very clear that He was leaving this earth so that the Holy Spirit could come (John 16:7). He lives inside us when we believe and receive by faith that Jesus died for our sins and was resurrected. We are the temple of the Holy Spirit (1 Corinthians 6:19), so our spirit is fully connected with the spiritual realm, whether we are aware of it or not.
In John chapter ten, Jesus says His sheep hear and know His voice and follow Him. As Christians, we are supposed to be sensitive to the Holy Spirit, growing in knowing His voice, so we can grow in our direct communion and fellowship with Him. It is a Spirit-to-spirit connection. So, if we are aware of God's presence, is it that far off-base to occasionally be aware of the presence of our child's spirit, who is connected to Him, Spirit-to-spirit as well?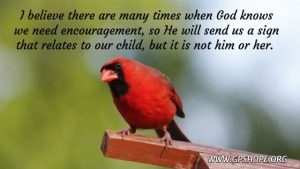 Let me also say that I believe there are many times when God knows we need encouragement, so He will send us a sign that relates to our child, but it is not him or her. For example, let's say a grieving parent is floundering hopelessly in the suffocating darkness of their grief. A cardinal comes and sits within 3 feet of them. Knowing their child loved and collected cardinals, some parents will think their child came to visit them as that cardinal. There is no scriptural ground that anyone's spirit comes back in the form of an animal. However, I do believe that God, in His deep love and compassion, sent that cardinal to give peace and comfort, because of the special connection their child had with cardinals.
One thing that I become more aware of with each passing year, is how much I don't understand about God. Even having the Bible to read and study, His vastness, His majesty, His glory, His love, is just beyond what I can comprehend or wrap my head around. Paul tells us in I Corinthians 13:12 that we see in part and we know in part. We cannot see the full picture, because what we see here on this earth is like looking through a dark glass.
Yes, I know we have the Word to teach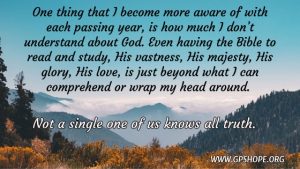 and guide us, but there is not one single person here on earth who doesn't have blind spots and wrong beliefs in some areas. Not a single one of us knows all truth. But we are constantly being taught by the Holy Spirit, who lives inside us, having our eyes opened to more light and more truth, which continues to set us free from false beliefs.
Have I had a sense that Becca's spirit is around at some point? No, but I have had twice when I fully believe I was in heaven with her. God gave me a vision, allowing my spirit to join her before His throne and in the heavenly city.
So, in answer to the question, "Can the spirits of our children come to us?" I will say that I have started to believe it is possible that our children's spirit can come and be with us at times on assignment for a specific purpose.
I would love to hear from you on this subject. If you do not agree, please share in a loving and respectful way. Anything harsh and judgmental will not be approved to be posted.

One of the sessions of the GPS Hope on-line summit was "What About Psychics and Signs?" where Dave and I discuss the topic. The entire Virtual Summit is on sale in our store, but if you would like this session for free, we would be happy to send a link for you to access it. Just fill in the information below. (It will also add you to our Weekly Word of Hope emails, which you can unsubscribe from at any time.)
Expressions of Hope is written by author,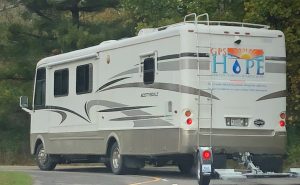 speaker and singer Laura Diehl. She and her husband, Dave, are the founders of Grieving Parents Sharing Hope (GPS Hope). Dave and Laura travel full time in their Hope Mobile (a 38-foot motor home) to be more easily available for speaking and ministry requests, including being invited to hold one-day GPS Hope & Healing conferences.
Laura is a national keynote speaker and has also been a workshop speaker for events such as The Compassionate Friends and Bereaved Parents USA national conferences, along with being a guest on radio shows, podcasts and other media channels such as webinars with Open to Hope.
If you would like more information about Laura as a speaker for your next event or want more information on hosting a GPS Hope & Healing conference, click here.
GPS Hope exists to walk with grieving parents through the suffocating darkness of child-loss, guiding them to a place of hope, light and purpose.
 We also support families, friends and coworkers who want to know how to support these parents both short and long-term.