When I go to the cemetery to visit my daughter's gravesite, I see many tombstones closer to the front of the cemetery that never have any decorations or any visitors.  Why?  Because they have been there for so long that no one knows who they are to miss them.
The truth is, whether I like it or not, many years down the road, that will also be the case with my daughter's grave, and mine, and yours, and everyone we love.
If you are like me, I have no idea who my great-great-grandparents were.  I have the names of some of them, but never actually met them.  I knew some of my great-grandparents in my childhood days, and even fewer of their siblings.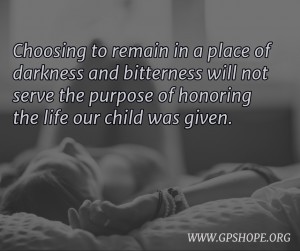 It can make me cringe and feel sick to my stomach when I think about the possibility of people forgetting Becca. I don't care so much if they remember me, but I want them to know who my children are when I am gone. I am guessing you are the same way.
So what do we do? How can we make our children more than just a tombstone in a cemetery? How can we let others know our child was here, and make sure his or her legacy outlives us, even when their time here on earth did not?
The first thing is getting to a point where we want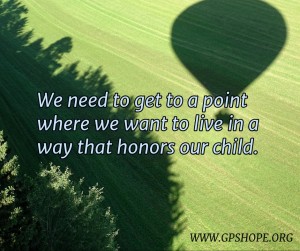 to live in a way that honors the life of our child. Our grief is real. The suffocating darkness takes over, and we have no choice. But at some point (often two  or three years down the road) we see a glimmer of hope that we actually can have a full life beyond the death of our child. When we begin to realize that, we have a choice to make. Am I going to live out my life in a way of hopelessness and despair that honors the death of my child, or am I going to find a way to rise above this darkness and live my life in a way that honors the life of my child?
I hope you can see that choosing to remain in a place of darkness and bitterness, which keeps us from living out our own lives, will not serve the purpose of honoring the life our child was given, no matter how short it may have been.
Once we make the decision emotionally to fight to come out of the dark pit of grief, so that we can find a way to honor the life of our son or daughter, we can begin to see how to do that in a practical way. (And let me add that I am not talking about the sadness and waves of grief that will overtake us at times for the rest of our lives. I am talking about choosing not to remain in that place of suffocating darkness when we start seeing hope and light again.)
Here are just a few thoughts:
A memorial brick – our local Rotary Gardens has a memory lane where this can be done, as well as Lambeau Field (where the Green Bay Packers play, a team of which Becca and our family are avid fans)
A bench on a trail – we have an "ice age" trail through our entire state, and people can have a bench put along the path with a plaque honoring the memory of a loved one
A tree in a park – there are many parks that would love to have a beautiful tree planted and will allow an "In Loving Memory Of…" plaque to be placed at the foot of it
All three of these can be a second place you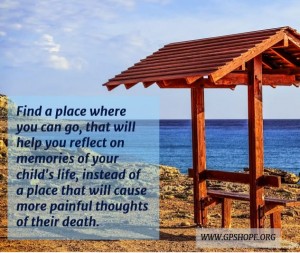 can go to remember your son or daughter; a place that will help you reflect on memories of their life, as opposed to being in a cemetery (or staring at their ashes in an urn) which tends to cause more painful thoughts of their death.
My husband, Dave, and I had the opportunity to do something quite different.  I was a leader in an international ministry for many years, which has taken me to Africa several times.  This has given me connections and friends in several African countries.  Dave and I wanted to find a way to better the lives of others, as a way to honor Becca and keep her memory alive. We gave money to some friends who lived in the extremely poor country of Burundi. They passed the money on to a family to start a little kiosk type store to support their family.  As far as we know, their business is still going and bringing this family in Burundi, Africa, hope and life!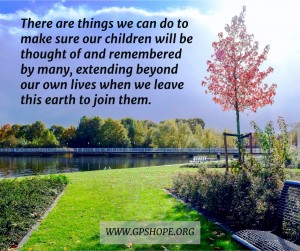 Someday, all of us who are alive right now will be long gone, and eventually, no one will be left who knew us.  But there are things we can do to make sure our children will be thought of and remembered by many, extending beyond our own lives when we leave this earth to join them.
I refuse to let Becca become nothing more than an undecorated tombstone when I leave this earth. I am going to make sure her life and legacy live on for others.
How about you?

If you would like more ideas on ways to honor your child, just fill in your first name and email address, and we will send it to you. (Be assured, your email address stays with us and is not given out.)
Expressions of Hope is written by author and speaker Laura Diehl to bring hope, light and life to those struggling in darkness after a tragedy, especially bereaved parents. If you would like more information about Laura as an author or a speaker for your next event, click here.
GPS Hope exists to bring hope to parents who have suffered the death of a child, acknowledging their unique grief with support, connection and education for them and those around them.