Have you ever been told the reason something bad is happening in your life is because you either don't have enough faith, or because you are not walking in your God-given Kingdom authority?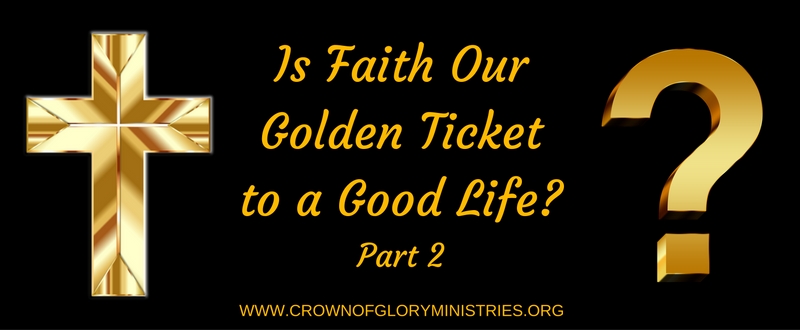 Yes, there are times those things are true.  But having enough faith or authority does not mean we will never again be affected by this sinful, fallen world in a way that hurts or shatters us. Eventually, those who hold to this Christian "golden ticket" belief either become angry with God for failing them, or they condemn themselves when something devastating happens and try to figure out what they did wrong.
This article is actually part two of this discussion. If you have not read part one, I recommend you read Is Faith Our Golden Ticket to a Good Life? Part One and then return to continue reading Part 2.
As I said last week, there are many scriptures to support how our faith stops the enemy, and learning how to walk in our Kingdom authority is powerful and effective against the enemy's advances against us.
But does that mean if something which is obviously evil and not from God hits us, we are at fault for not being strong enough in faith or authority to stop it?
Let's look at the Word of God to consider an answer to this question.
Moses was instructed directly by God to go back to Egypt to release the people of Israel from slavery and lead them into the land they were promised (which had been promised 400 years earlier and instead they became slaves in a foreign land). As Moses obeyed God, it got worse for the people as Pharaoh came down hard on them before they were released (Exodus 3-13). After they got their breakthrough and were set free, God led them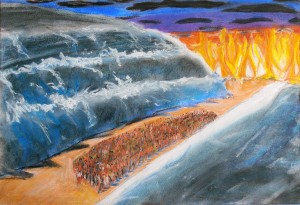 specifically to a place where they were cornered by the enemy, and once again things looked much worse after God stepped in and started leading them. They were very upset, not knowing that God had a bigger plan. God performed a miracle, causing the water to separate, giving the people an escape route (Exodus 14). None of these events had anything to do with the people's lack of faith, and everything to do with God having a plan that could not be seen at the time of extreme difficulty.
Then there is always Job. Can you believe God called Satan's attention to Job, and then allowed Satan to mess with him in such devastating ways? It didn't matter how much faith Job had in God's goodness; the Lord had lifted His "hedge of protection" from Job and let the enemy attack him time after time. He lost his wealth, his children and his health (Job 1, 2). And in the end, God restored Job's health, wealth, and gave him more children (Job 42).
Okay, so those examples were under the old covenant. What about in the New Testament?
Well, what about when Jesus told Peter, "Satan has asked for you, that he may sift you as wheat. But I have prayed for you, that your faith should not fail; and when you have returned to Me, strengthen your brethren." (Luke 22: 31-31 NKJV). Jesus didn't tell Peter, "When the enemy comes to attack you, just take your God-given authority and use your faith to cast him off and all will be well". Yes, Peter was later filled with the Holy Spirit and grew immensely in his faith, but that was still not a golden ticket to a world with no trials or instant deliverance for any of the apostles.
And then there is the Apostle Paul. If there was anyone who knew how to walk in faith and his God-given authority, he was the man.  Paul is also the one who wrote the most about our faith and our authority, instructing us to grow in these areas to defeat the enemy. And yet Paul, himself, tells us he has had "…far greater labors, far more imprisonments, with countless beatings, and often near death.  Five times I received at the hands of the Jews the forty lashes less one. Three times I was beaten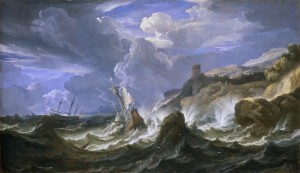 with rods. Once I was stoned. Three times I was shipwrecked; a night and a day I was adrift at sea; on frequent journeys, in danger from rivers, danger from robbers, danger from my own people, danger from Gentiles, danger in the city, danger in the wilderness, danger at sea, danger from false brothers; in toil and hardship, through many a sleepless night, in hunger and thirst, often without food, in cold and exposure." 2 Corinthians 11:23-27 ESV). Was all of this because Paul had not yet learned how to have enough faith to keep these things from happening to him? I highly doubt it.
The story of Shadrach, Meshach, and Abednego has been brought to my attention several times lately (which is actually what prompted me to write this article).  When threatened with death, their famous answer was, "If we are thrown into the blazing furnace, the God we serve is able to deliver us from it, and he will deliver us from Your Majesty's hand. But even if he does not, we want you to know, Your Majesty, that we will not serve your gods or worship the image of gold you have set up" (Daniel 3:17-18 NIV). It seems these three gave that "cop-out" answer of "if it's God's will" which some of us have been told shows a lack of faith in God's Word and stops Him from moving in our lives.
When I recently heard this story once again in a Sunday morning message, it caused me to think of those in Hebrews 11. This entire chapter lists out those who stood in faith and gained what was promised, and also those who did not live to see the answer they were standing in faith to see. What's up with that?
I want to go back to what I said in part one of this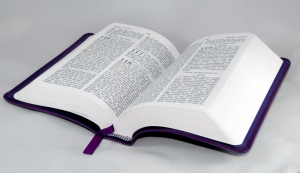 discussion. Faith and trust can be interchanged. I can have a bold faith in scriptures I have picked out, believing God is going to do exactly what those scriptures promise. Or I can have a trust that comes from knowing my God intimately, so that when I stand on the promises in His word, I also turn the situation over to Him, knowing He is in full control, no matter what I see, feel, or hear.
Sometimes, I believe our faith can get in the way of God's greater plan. Most of our growth actually comes through adversity. When God knows a greater good can come from the trial, sometimes He will trump our faith and authority with His greater good, especially when we have a heart that wants His will to be done over our own will.
In other words, God doesn't need our opinions or demands (sometimes disguised as "faith") in order to do His job.  He needs our trust.  He needs our belief in His ability to see, know, and do, what we cannot see, we cannot know, and we cannot do.
I have not said all of this to discount faith, or to discourage anyone from growing in learning how to walk in our God-given authority. These things are a must! I have written this to remind us that God is still bigger than our faith and our authority. He is sovereign and has the final word on everything. If you have done all you know to do, trust God with the outcome. This is especially true when your faith is met with resistance, or the opposite happens of what you were believing in faith. Don't' quit and don't blame God for being God.
As someone who knows what he is talking about has written, "Having done all, stand!"
Gems from the Crown is a weekly blog from

Crown of Glory Ministries
to strengthen and encourage believers in Christ in their walk with God, especially in the areas of vision, authority, and identity. If you would like to have Gems from the Crown delivered directly to you,
please click here
.