"One holiday down, two more to go…" Is that your thought after Thanksgiving, heading into Christmas and New Year's Eve?
The end-of-the-year holiday season can amplify everything, especially the questions and the pain.
When we face the death of our child, it can feel impossible to believe God is for us, or that He is Emmanuel, God with us. So many unanswered questions, many that start with "Why."
Last year (in 2016), right before Thanksgiving, I was before the Lord and the words, "Emmanuel, God with us," hit my spirit with almost an explosion. I cried out, telling the Lord that I want Him to be with me every day of this next month.  I want to feel Him; I want to know His peace in a very tangible way.
I suddenly had a picture of our advent wreath.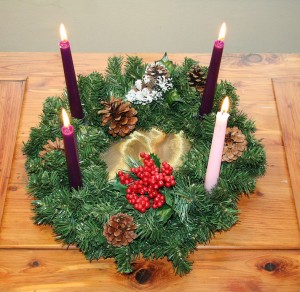 As our children grew up, we had many years where we did the advent wreath to help refocus us, from the commercialism and the frazzled busyness of the season, to Jesus.
The thought came to me to have my own advent time with the Lord each night, using the wreath and the candles;
to have a time where I specifically focus on who He is as Emmanuel, God with us, within my pain of the loss of my daughter.
I found myself writing something for each night of the advent season, and most evenings went live on Facebook to light that week's candle and share with anyone who wanted to join me.
Here is what I found myself writing one day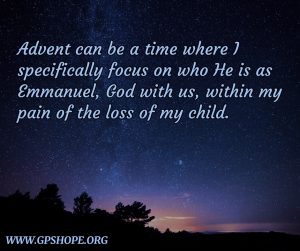 for the week I was meditating on the hope we have in Him.
Advent is a time of waiting; waiting for the coming or arrival of something. This is the season when advent is waiting for the arrival of Christmas. For most, it is a time of joyful anticipation, mixed with frazzled busyness.
But for many of us who have faced the death of our child, it is a time of waiting for the season to just… be…over. There are so many painful reminders of who we are missing, and painful reminders of what will never be.
We are also waiting to be reunited with our child, and that can't seem to come soon enough. I remember in that first year after Becca died, telling God to just kill me, so I could be done here. Even though I had four other children, I just couldn't get past the pain of having Becca gone, to be able to enjoy and love the ones who were still here.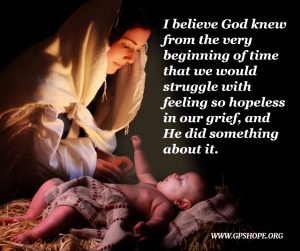 Most of us are not suicidal. We just don't want to live any more. I believe God knew from the very beginning of time that we would struggle with feeling so hopeless in our grief, and He did something about it.
1 Peter 1:3-5 tells us that we have an inheritance reserved in heaven; a living hope through the resurrection of Christ from the dead.
Even though the Christmas season is all about Jesus entering the world of the humans He created and becoming one of us, the purpose of His birth was to die, so that we could have life. Not just life after we leave this world, but abundant life here on this earth (John 10:10). And believe it or not, He still wants to make good on that gift, that promise, in your life, after the death of your child.
God tells us that He is near to the broken hearted (Psalm 34:18). I don't think there is anyone more brokenhearted than those of us who have lost a child.
But you know what? No matter how broken you are today, tomorrow always promises new hope.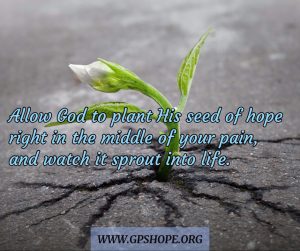 Allow God to plant His seed of hope right in the middle of your pain, and watch it sprout into life.
Romans 15:13 has become one of my absolute favorite verses since Becca died. Please see this as a special gift during this advent season for yourself.  "Now may the God of hope fill you with all joy and peace in believing, that you may abound in hope by the power of the Holy Spirit" (NKJV).
Right now, let's speak God's hope into our hopelessness together.
I turned my advent time into a book, so others can also have an opportunity to meditate on what Christmas means to us now as a bereaved parent. There is a reading for each day of the advent season, and each week focuses on something we desperately need: hope, peace, joy and love. Every reading also closes in a simple prayer, to help us continue to open our hearts to the Healer of our shattered souls. (To find out more about this book click here.)
And in case you are interested, each of the four advent Sundays at 8:30 PM Central, I will be live on Facebook (www.facebook.com/gpshope), with my advent wreath, lighting that week's candle and sharing the current reading. I hope you can join me, and we can share this sacred time together as those who are bound together by both the blood of Jesus, and by the deep earthly loss we have faced.
May you be deeply blessed and find a measure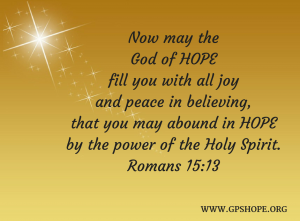 of healing as you focus on making this Christmas season one of reflecting on our Savior in the midst of your painful loss. I sincerely pray that in the next few weeks, the Holy Spirit will remind us all that no matter how suffocating the darkness, there is hope for our future, because He truly is Emmanuel, God with us.

Expressions of Hope is written by author and speaker Laura Diehl to bring hope, light and life to those struggling in darkness after a tragedy, especially bereaved parents. If you would like more information about Laura as an author or a speaker for your next event, click here.
GPS Hope exists to bring hope to parents who have suffered the death of a child, acknowledging their unique grief with support, connection and education for them and those around them.