Many grieving parents that I talk to share how hard it is that their life has come to a screeching halt after the death of their child, and don't understand how everyone else just keeps going.
I remember feeling that way myself. I specifically remember that thought sitting in my car at a stop light. Even though I was out and about, I was numb. I was going through the motions and doing only what was absolutely necessary outside my home. I could see people walking, people in cars around me having conversations, and cars driving past me as if the world was okay. It was hard not to get angry and not start screaming at everyone for acting like things were normal.
Eventually (and by "eventually," I mean two to three years), I found myself running those same errands without the sense that because my world had come to an end, everyone else's should, too. Until recently…
On July 15, my husband, Dave, got a phone call from his dad who was having such intense back pain it was causing him to vomit, and asked Dave to take him to the ER to get checked out. Eight hours later, the family was being called to sit by my father-in-law's bedside, waiting for him to pass from this world with a ruptured aorta that was inoperable.
Not only did we lose the first one of our four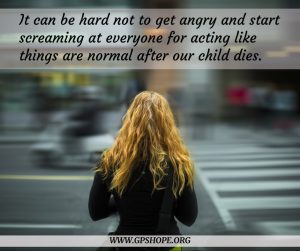 parents, but Dave and I became instant caregivers to his mom, whose dementia and other health issues need someone with her pretty much 24/7. For almost two months now, we have been taking shifts, living with her as we jump through all the hoops going through the process to get her placed in an assisted living facility.
Life has once again come to a standstill. I look around at life going on as normal for those around me, while my world has been turned upside down. Don't get me wrong, I love my mother-in-law. We have never had that stereotypical difficult relationship. However, my son and his family purchased their first home and we have not been able to help them move or get settled much at all. My youngest son is moving, and we have not helped him either.
Dave and I were in the process of downsizing, to move into our Hope Mobile (the motor home we recently purchased to go on the road full time for GPS Hope, helping grieving parents). That not only came to a halt, I found myself bringing back to the house things I had already moved to the motor home. Our oldest son is buying our house, and that came to a standstill as well, since we could not move out, taking turns being full-time caregivers.
My writing to keep up with blogs, emails, and so on has been spotty at best. Even our marriage feels like it has come to a standstill, as most of the time one of us is at Mom's apartment and one of us is home.
Because I have faced the worst thing that could happen in my life, the death of one of my children, and have come out the other side able to live again when I didn't think that was possible, I know that it will happen again with this new situation that has me at a standstill.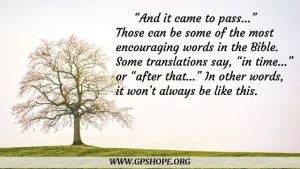 "And it came to pass…" Those can be some of the most encouraging words in the Bible. Some translations say, "in time…" or "after that…" In other words, it won't always be like this.
If you are frustrated that life is going on while you feel so very stuck, I want to help you think of it a little differently. It is actually a good thing to see life going on around you, because that means you are surrounded by people whose lives came to a standstill, but they have been able to move forward at some point. And that includes bereaved parents like Dave and me, who were once in that same place of suffocating darkness.
I am not saying that life goes on as normal, the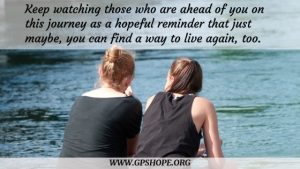 way it was before the death of your child. That would be impossible. What I am saying is that if you keep going, one day, one hour, one breath at a time, (and I know sometimes it feels like you can't), at some point down the road you will find yourself feeling a stirring of being alive again. Just keep watching those who are ahead of you as a hopeful reminder that just maybe, it can happen to you
also.
And I am now happy to be someone you and others can look at, wondering how I ever got past Becca's death to be able to live again. And a few years into this journey, I believe that you will have others wondering that about you.

We would love to send you a list of thirty suggestions to help bring yourself comfort and take care of yourself body, soul, and spirit. Just fill in the information, hit submit, and it will be sent to you right away.
GPS Hope

exists to walk with grieving parents through the suffocating darkness of child-loss to a place of hope, light and purpose.
 We also support families, friends and coworkers who want to know how to support these parents both short and long-term.
Expressions of Hope is written by author and speaker Laura Diehl. Laura is a national keynote speaker and also a workshop speaker for both The Compassionate Friends and Bereaved Parents USA national conferences. Laura has also been a guest on Open to Hope several times, and has hosted her own conferences, a virtual conference and many webinars. If you would like more information about Laura as a speaker for your next event, click here.