With the death of our child, we have to go through at least one memorial service of some kind. For some of us, there is absolutely no way we can even think about standing up in front of others and sharing anything. Others find the strength to do so, whether it is the grace of God or out of our numbness (or a bit of both).
I, personally, fell into the second category. The numbness was definitely there, because for almost three years afterwards, I didn't remember what I said at Becca's funeral, and it really bothered me. To make it worse, I couldn't find the paper with my notes.
I was so happy when it showed up, and kind of surprised at what I found written. My own words that I spoke at my daughter's funeral were an encouragement, and they still are for me today. Here is part of it.
The name Rebecca means faithful. And she has now heard the words "Well done, good and faithful servant. Enter into the joy of your Lord!" She knew it was time to hear those words and she was ready.
It is all a matter of perspective.
 Romans 8:18-25, "Yet what we suffer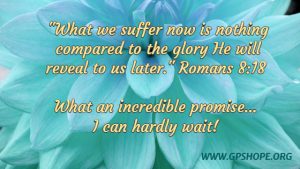 now is nothing compared to the glory He will reveal to us later. For all creation is waiting eagerly for that future day when God will reveal who his children really are. Against its will, all creation was subjected to God's curse. But with eager hope, the creation looks forward to the day when it will join God's children in glorious freedom from death and decay. For we know that all creation has been groaning as in the pains of childbirth right up to the present time. And we believers also groan, even though we have the Holy Spirit within us as a foretaste of future glory, for we long for our bodies to be released from sin and suffering. We, too, wait with eager hope for the day when God will give us our full rights as his adopted children, including the new bodies he has promised us. We were given this hope when we were saved. (If we already have something, we don't need to hope for it. But if we look forward to something we don't yet have, we must wait patiently and confidently.)" (NLT)
 Second Corinthians 4:8-9 is actually the verse to a song she used to sing on the worship team at church, always singing it as a solo—her personal declaration in the midst of what she was dealing with. "We are hard pressed on every side, but not crushed; perplexed, but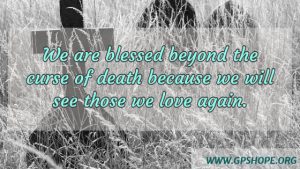 not in despair; persecuted, but not abandoned; struck down, but not destroyed" (NIV). The song goes on to say how we are blessed beyond the curse because His promises will endure; that His joy is going to be my strength. It talks about trading our sorrows, our sickness, and our pain for the joy of the Lord."
The chapter goes on in verses 17-18 and on into the next chapter, "For our light and momentary troubles are achieving for us an eternal glory that far outweighs them all. So we fix our eyes not on what is seen, but on what is unseen, since what is seen is temporary, but what is unseen is eternal. For we know that if the earthly tent we live in is destroyed, we have a building from God, an eternal house in heaven, not built by human hands. So we groan, longing to be clothed instead with our heavenly dwelling…so that what is mortal may be swallowed up by life" (NIV)
Becca is actually now more alive than we are!
Yes, we all go through the numbness of being in survival mode, for the first two or three years. We can't find our way out of the suffocating darkness; we just want to stop hurting so much and most of us just want to be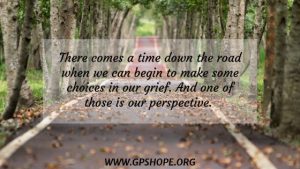 done here. I am not discounting or minimizing that at all.
But there comes a time down the road when we can begin to make some choices in our grief. And one of those is our perspective.
When I think of my loss, and how much I miss my daughter, I can still fall into the darkness of grief. But it helps tremendously when I remind myself that
we are blessed beyond the curse of death
this is not a permanent separation
I will see my child and others again
God's promise is that the glory revealed in us can't even be compared to our suffering
We are not physical beings having a spiritual experience. We are spiritual beings having a physical experience. That means that what is happening in the spirit realm is more real than the physical realm we are living in. And that is why I could say, as soon as Becca's spirit left her body, that she is more full of life than any of us still here on earth. The same is true for your child as well.
I believed every word of that when I spoke it at Becca's memorial service. I believed every word of that in the blackness of my depression and in the crushing darkness of grieving Becca's death. And I still believe it with every fiber of my being today.

Becca loved to worship and was known for some of the songs she wrote.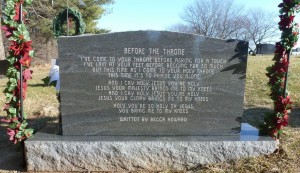 Her personal favorite had even more meaning after her death and was sung at her funeral and etched on the back of her tombstone. If you would like to receive a copy of the words to this song, Before the Throne, just let us know below.
Expressions of Hope is written by author and speaker Laura Diehl to bring hope, light and life to those struggling in darkness after a tragedy, especially bereaved parents. If you would like more information about Laura as an author or a speaker for your next event, click here.
GPS Hope exists to bring hope to parents who have suffered the death of a child, acknowledging their unique grief with support, connection and education for them and those around them.