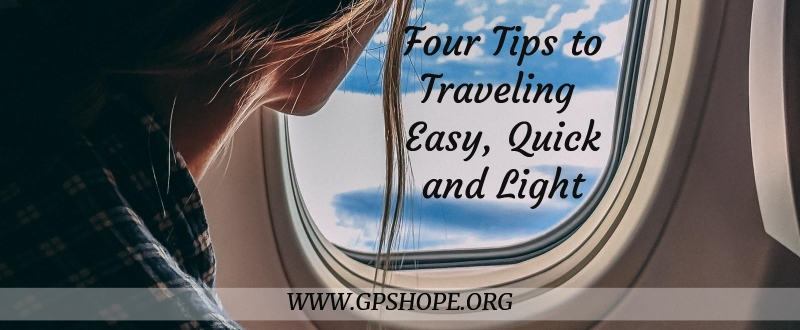 If there's one thing that comes with the territory of ministry, it's travel! And being in international children's ministry for years meant I got pretty good at it.
And even though we now live in a house on wheels, there are still times we need to pack a suitcase to travel, leaving the Hope Mobile parked while we are gone.
As we get closer to travel season, I thought it would be fun to share some of our best practices when it comes to planning for travel.
Chances are you and your family are planning some vacation or holiday trips in the next few weeks. Whether you're going on a three-day business trip or preparing for a two-week vacation, here are some guidelines for maximizing suitcase space, minimizing your load and cutting down on wrinkles!
Tip #1: Invest in A Good Carry-On
If you are flying, make sure you know the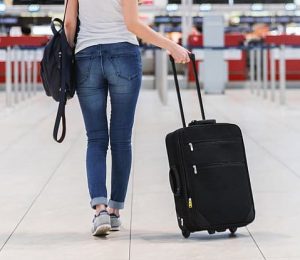 size limit, both for the overhead compartment and under your seat. Most airlines allow two carry-ons but check your specific flight to make sure. (Ladies, the bag that goes under my seat is where I also stash my purse, because it is considered a third carry-on which is definitely not allowed.)
On my second trip to Nigeria, I had the same red carry-on that I had placed under my feet for several international trips, along with an overhead bag that was quite full. For whatever reason, I was stopped at the door of the plane where I was told my red bag was too big for under the seat and I would have to check it plane side. I had all of my notes for teaching that I had to finish and study, plus personal items to refresh myself during the long travel and some healthier snack items.
I asked if I would get it back in Atlanta before crossing the ocean and was told no, it would have to go in the cargo all the way to Nigeria. It didn't matter that I let them know I have put it under the seat in several previous flights. I was in tears because I was counting on my long flight to finish preparing, and I begged them to let me at least take it on and show them it fits. They absolutely refused but offered me two plastic Delta bags to dump everything into so that I could take the contents with me.
WHAT???? So instead of my small red bag on wheels with everything packed in neatly, I had two plastic bags with everything randomly dumped into them to try and fit under my seat, while my empty red bag got checked in plane-side to go with the cargo!
So, once again, if you are flying, do your best to make sure you have a carry-on that won't give you any problems.
Tip #2: Create a Separate Toiletry "Kit"
This comes in very handy and should consist of a TSA regulation clear bag that has travel-size or hotel sample items. I don't have to think about what I need, because it is already in my kit, ready to grab for any trip. When I get home, I make sure it is resupplied for the next time I need it.
Note: I always toss this in my carry-on, even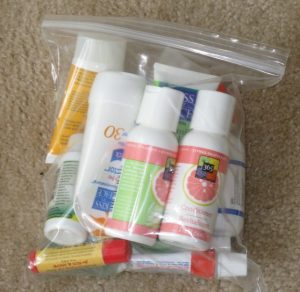 if I have a large suitcase that I am checking through with a full-size bottle of shampoo, etc. Why? Because I got stuck in a Boston airport overnight with nothing to freshen myself, including things like a travel toothbrush and toothpaste or deodorant. I won't let that happen again! (Make sure your toiletry kit is in front or on top of your carry-on, so you can easily get to it for putting it in the bin going through security.)
Tip #3: Count (and Pack) Socks and Undergarments First!
I will let you decide why this is a good tip…
Tip #4: Think "Tetris"
Don't just throw everything in the suitcase as you grab it. Lay it on the bed next to your suitcase and fold it neatly or roll up each item. Then when you have everything, pretend you are building a puzzle.
Rolled up socks can be stuffed inside shoes (placed inside plastic shopping bags to keep your clothes clean). Small items like underwear or rolled up T-shirts or thin pajama pants can easily fit on the bottom between those annoying bars that hold the pull handle. This leaves you with a much flatter surface for packing some of the bigger or bulkier items. Be sure to place the items you want to stay as wrinkle-free as possible on the top.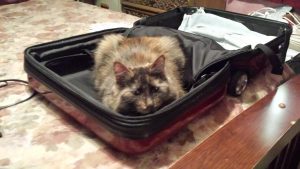 You might be surprised at how much room you still have, when packing this way. You can either fill the space with adding more "just in case" items or use the space to bring home more souvenirs than you had planned!
Checked baggage fees, small overhead compartments, and long waits at baggage claim are just a few reasons it pays to pack light, whenever possible.
My hope is that these tips give you some insight into your own journey when it comes to travel!
Question: Are you traveling anywhere this upcoming season? I'd love to hear where you're going and what you do to keep travel manageable. Leave a comment or write me back, I'd love to hear from you!

Laura Diehl is an award-winning author, national speaker and singer. She and her husband, Dave, are the founders of Grieving Parents Sharing Hope (GPS Hope). Dave and Laura travel full time in their Hope Mobile (a 38-foot motor home) to be more easily available for speaking and ministry requests.
If you would like to receive monthly updates on their travel adventures click here and submit your name and email at the bottom of the page.
Looking for a speaker for your next event or want more information on hosting a GPS Hope & Healing conference? Click here.
GPS Hope exists to walk with grieving parents through the suffocating darkness of child-loss to a place of hope, light and purpose.
 We also support families, friends and coworkers who want to know how to support these parents both short and long-term.
If you are not a bereaved parent but want to support those who are, or want to follow us as we give hope to these precious parents, please connect with us at Friends of GPS Hope on Facebook.
If you are a bereaved parent, we encourage you to connect with us on Facebook and subscribe to Laura's YouTube channel for grieving parents.