The pain of losing our child seems to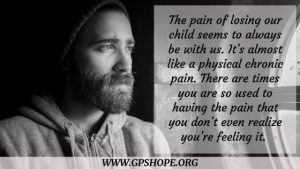 always be with us. Even if I'm not emotionally feeling the pain at the moment, it is still there. It's almost like a physical chronic pain. There are times you are so used to having the pain that you don't even realize you're feeling it.
During the first few years after our daughter Becca's death, God gave me many reminders to rest in Him and His ways that didn't make any sense. It was a hard thing to do, because I could not see any light in my darkness or understand why God was allowing so much intense pain.
He would share His reminders to just "be" and to rest in Him in so many different ways. He would remind me to take a breath and breathe in His love and peace.
He never sugarcoated anything but would acknowledge how difficult and steep my climb was, telling me to cling tightly to His hand, reminding me to look at Him whenever my circumstances overwhelmed me.
Here are four things that helped me be able to rest in God's love for me, even in the midst of my intense suffocating darkness, that I would like to pass on to you.
1. Anytime you feel like you are sinking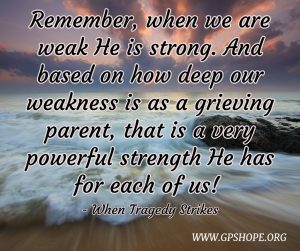 under the swirling waters, call out "Lord, save me!" just like Peter did in Matthew 14. Whenever I did that, somehow Jesus always reached through the storm and pulled me up out of the drowning sea of emotions, into His secure arms, where I would feel like He was holding me. He knew how weak and helpless I was, and He never tired of meeting me in my place of need.
2. Do whatever you need to do to be aware of His presence, which might include playing some worship music, or just sitting in silence in a place of nature where there is beauty and peace. Not only would He "hold" me, but He would encourage me to relax in the awareness of His presence. Some of my most precious times with the Lord were in my greatest times of weakness, just letting everything go and melting into His peace, love, and compassion.
3. Ask the Holy Spirit to show you some positive things that have happened because of the deep brokenness (no matter how small those things may be). When I was only eight months into this journey, I asked God to do this for me, and I came up with a list of eighteen things I saw Him working in me through the darkness, such as learning to become nonjudgmental (I didn't have time or energy – that kind of thing just wasn't important to me anymore), seeing the love and grace of God in a deep way, becoming free of what man thinks of me, enjoying being in His presence (just resting and letting Him love on me), learning it's okay to be broken and to be a Christian and a leader, and so on.
4. Be determined to live from a place of surrender. This means we must learn to live from the spiritual part of our being—Christ in me and I in Him—and not out of our emotions or flesh. I always thought I did pretty good at that, but I have found a new level of living in it by tapping much more deeply into who God is in me. Here is something I wrote in my journal, eighteen months after Becca died.
4/21/13: This morning I just had to get to my prayer room, and there's been such a sweetness of just wanting to be here with Him. I finally put my finger on it: it is the contentment of surrender! I almost feel guilty for not being agitated or in some sort of emotional pain, but there is such a peace and contentment—very unnatural, and yet it should be natural, and I pray it has become a natural part of my life!
I will readily admit though, that the pain is still pretty intense at times, and I can feel like I am going backwards as I lose that peace and the place of rest I am fighting to keep.
For instance, at one point, Becca's husband dropped off four plastic tubs on our front porch that he no longer wanted. They all contained things of Becca's that were special and important to her, along with some of her medical equipment and other not so good memory items.
It was really hard to go through those bins. But the thing that left me in a crying mess for the next few days was when I discovered her wedding dress smashed in the bottom of the last bin. It felt so cruel, so careless. My daughter's life has been reduced to four plastic bins, I thought.
But instead of allowing myself to go in that direction, I told myself the truth. Her life was much bigger than these four bins. However, it was another door of finality I had to painfully work through, and once again make a conscious decision to rest in who God is, within the painful circumstance.
I have now learned that peace and pain can both reside in us at the same time. Whether I am consciously feeling the pain or not, an underlying peace seems to travel side-by-side with my pain. It is definitely the peace of God that goes beyond any understanding, and I am so thankful that He offers it to us and gives it freely.
I wish God would just speak a command and make it all better, instantly removing the pain and replacing it with constant peace and rest, but it doesn't happen that way. Learning how to live in that place is a process for each one of us.
Learning to rest in God is a must if you want to get out of your place of darkness. And that means spending time alone with Him. You don't even have to talk to Him, just "be" with Him, in your pain, your anger, or your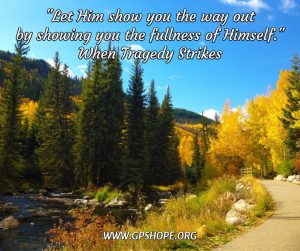 darkness. And don't feel guilty about taking as much time as you need to be intimate with the One who loves you like crazy and wants to get you out of the suffocating pit and onto the path of living again. Spend intimate time with Him. Lots of it.
Let Him show you the way out by resting in the fullness of Himself.

This article was taken from Laura Diehl's book When Tragedy Strikes: Rebuilding Your Life With Hope and Healing After the Death of Your Child. Laura will be doing a live six-week deeper dive study into this book with anyone who wants to join her. Click the link below for more information or to register.
Expressions of Hope is written by author and speaker Laura Diehl to bring hope, light and life to those struggling in darkness after a tragedy, especially bereaved parents. If you would like more information about Laura as an author or a speaker for your next event, click here.
GPS Hope exists to bring hope to parents who have suffered the death of a child, acknowledging their unique grief with support, connection and education for them and those around them.