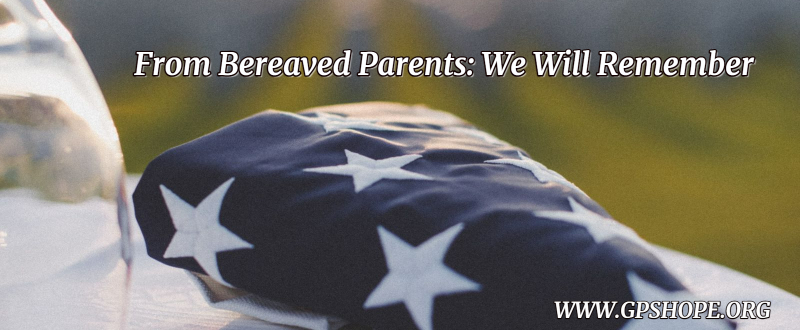 We see a flag at half mast, and we remember.
We hear TAPS being played, and we remember.
We donate to a war veteran with red poppies, and we remember.
We observe red, white and blue flags lining the street poles and filling sections of a cemetery, and we remember.
We not only remember, but we honor those who were willing to give their lives in service to our country.
We not only remember and honor them, but we remember the families who have carried that sacrifice and had to live with their child, their father, mother, uncle, cousin, best friend gone from their lives.
We not only remember, but we cry with them, especially those of us who have buried a child, because we know the suffocating darkness of love being torn from us.
So, we not only remember, we grieve with you.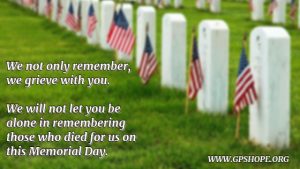 We will not let you be alone in remembering those who died for us on this Memorial Day.

Losing a child can make us feel very alone. People around us just don't understand why we are taking so long to "get over it."
Here at Grieving Parents Sharing Hope (GPS Hope) we understand, because we have been there, and would like to connect with you to walk this unwanted journey together. If you would like to receive a list of Thirty Ways to Help Take Care of and Bring Yourself Comfort, please submit your name and email address below.
It will also put you on our email list to receive a couple of introductory emails to the resources GPS Hope has available, and a Weekly Word of Hope. You can easily unsubscribe when you no longer want to receive them.
Expressions of Hope is provided by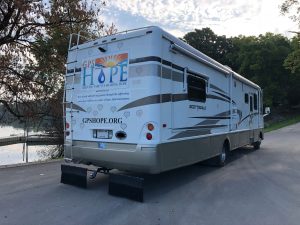 Grieving Parents Sharing Hope (GPS Hope). The founders, Dave and Laura Diehl, travel full time in their Hope Mobile (a 38-foot motor home) to be more easily available for speaking and ministry requests, and bringing intimate weekend retreats to bereaved parents. Laura is also a singer/songwriter and the author of multiple award-winning books.
If you would like more information about bringing Dave and Laura to you for an event, please send an email to office@gpshope.org.
If you are interested in bringing GPS Hope to your area for a weekend retreat click here.