God is for you! He has given you power, love, and a sound mind. So if that is what He has given each of us, how can we live out the truth of those things operating in our lives?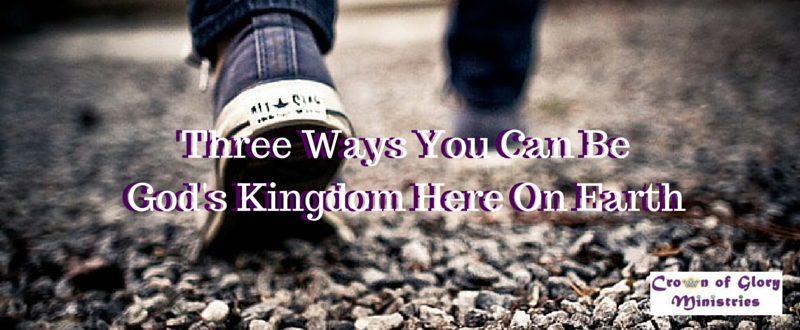 Last week we looked at the first part of 2 Timothy 1:7. This week let's examine the rest of it, and how it relates to God's Kingdom working through us.
First, let's look at the "spirit of power." That power is His authority He has handed to us to use on this earth against the enemy.
When God speaks, His Word is like a deed to a house. It is a like a legal spiritual document, giving us the rights to whatever promise He has given to us.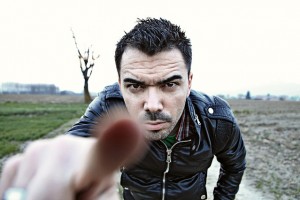 However, the enemy acts as a squatter. He will live in that place, taking over what is yours, until you discover him and kick him out. That "deed," or promise from God in His Word, is the authority you have to do so.
"Resist the devil and he will flee from you." James 4:7. It is our responsibility to enforce God's laws here on this earth. We have to kick the devil out of the places he already knows he doesn't belong.
There is a way to get stronger in our authority over the enemy, and it isn't something on God's end.
Are you aware that you become like the people you spend the most time with?  Look at the top five people you spend the most time with, and it will probably be a pretty accurate reflection of who you are. One of the quickest ways to change yourself (your thoughts and actions) is to change who you spend your time with. So if you want to be transformed to be like Jesus, (and have a greater understanding of the authority He has given us) you must be in relationship with Him, and spend time with Him, because He is where our authority comes from.
When our daughter, Becca, had her cancer at age 3, I had a very presumptuous faith. I believed if I spoke it, I would have whatever I said. (Isn't that what the Bible says?) I told everyone that God was going to heal Becca, so she would not have to have her leg amputated. I thought the more people I told, the more God would have to honor His Word and heal her.
Guess what? On November 5, 1985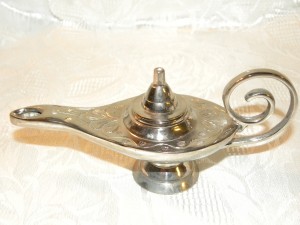 at three years old, Becca's left leg was amputated. Since that time, I learned my authority does not come with my words by treating God like He was some genie in a bottle, but in my relationship with Him; knowing who I am in Him, and who He is in me because of spending time with Him and getting to know Him in an intimate, personal way.
I have been in some situations where there was a demonic stronghold involved that needed to be cut off. When I am called in to do this, I have to make sure I am not doing it from my own head knowledge, but that I do it based on my relationship with Jesus, putting on His authority, like a spiritual garment. (Remember the demon who said in Acts 19:15 "We know Jesus, and we know Paul, but who are you?" and attacked the seven sons of Sceva?)
I take the time to first see myself seated with Christ in heavenly places (Ephesians 2:6). When I release myself to be in God, the enemy trembles because he isn't dealing with me, it is the power and authority of God Himself!
What about the spirit of love? This is our identity.
Activity follows identity. Our actions are based on who we believe ourselves to be. I have heard someone tell the story about when they told a friend that someday they wanted to be a writer.  The friend responded with, "You are a writer. You just have to write." That statement changed how he saw himself, and he is now not only a successful author, but teaches others how to become successful authors.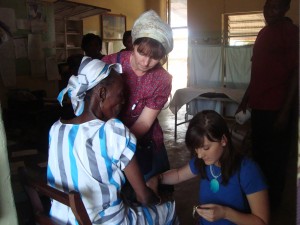 Let me ask you, what are you doing that shows what you believe about your self-identity?
If God is love, and He has given us His spirit of love, then love should become our identity. We are told in Ephesians 3:17 that we are to be rooted and grounded in love. That means it is at the very foundation of our being.
God puts a pretty heavy emphasis on love. Not our conditional earthly kind of love, but His pure and eternal kind of love.
"I may speak in different languages of people or even angels. But if I do not have love, I am only a noisy bell or a crashing cymbal. I may have the gift of prophecy. I may understand all the secret things of God and have all knowledge, and I may have faith so great I can move mountains. But even with all these things, if I do not have love, then I am nothing. I may give away everything I have, and I may even give my body as an offering to be burned. But I gain nothing if I do not have love… And now abide faith, hope, love, these three; but the greatest of these is love" 1 Cor. 13:1-3, 13 (NCV).
I have actually found myself praying at times that God would not allow me to flow in the power of the gifts, if I was doing it with a wrong motive and not from His love. If it is that important to God, then it is important to me.
If you walk in Christ's identity of love, you will be walking in power. Why? Because love never fails! (1 Corinthians 13:8) That is power!
Let's look at that sound mind He has given us.
First, the meaning of that word "sound" means discipline or self-control.
The NLT version says, "For God has not given us a spirit of fear and timidity, but of power, love, and self-discipline."
No matter how you look at it, this is a battle in our minds. And Jesus paid the price for that.
Isaiah 53:5 tells us that He was wounded for our transgressions, He was bruised for our iniquities, the chastisement for our peace was put on Him, and by His stripes we are healed. Do you see that?
Chastisement is mocking and tormenting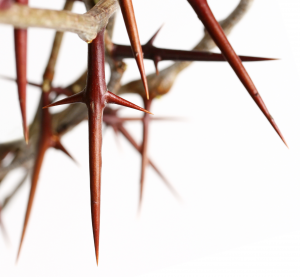 with words. When Jesus was being mocked and tormented by those making fun of Him, that was in exchange for our peace!
The crown of thorns shoved on His head, making the blood run, was paying the price for our minds – our thoughts.
When we put on the helmet of salvation, we are covering our minds with a complete work and the full price of being "saved," even in our thoughts.
We have a choice in how we use our minds. I am not talking about the thoughts that randomly pop into our heads. We can't stop those. But we have full control of what we do with those thoughts.
In 2 Corinthians 10:5 we are told to bring all of our thoughts into captivity to the obedience of Christ. According to 1 Corinthians 2:16, we have the mind of Christ.
If we choose to take our personal thoughts captive, knowing we have the mind of Christ, we will see what He sees, and we will have His vision for our lives.
So we can be assured that He has given us a sound mind; a mind of discipline and self-control.
We are not to give in to fear. We are to have His sound mind, His power, and His love (2 Timothy 1:7).
We are to have His vision, His authority, and His identity. We can see the crown, we can wear the crown, and we can be the crown of His Kingdom here on earth.
Gems from the Crown is a weekly blog from Crown of Glory Ministries to strengthen and encourage believers in Christ in their walk with God, especially in the areas of vision, authority, and identity. If you would like to have Gems from the Crown delivered directly to you, please click here.