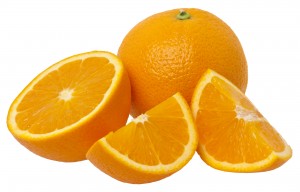 How many of you like oranges? Imagine I have an orange and start peeling it. It smells so good! I bite into a section and you can see how juicy it is. Do you want a piece? Wait a minute… I also have some candy. Would you rather have a piece of my orange or my candy?
Candy will give quick energy. It tastes good, but it isn't something healthy or nutritious for your body. The orange will also give you energy and tastes good, but it has nutrition your body needs and is good for you. Choosing the orange means you are making a very wise decision.
Life is full of choices. Many things we can choose will bring us immediate pleasure, but aren't good for us. Some choices may not look or sound as good, but are actually better for us. The older you get, the more times you will find people who don't have the Holy Spirit living inside of them trying to pressure you into making the choice that has something you gain
right away, but keeps you from God's blessings, and may even be harmful for you in ways you can't see at the time.
God loves you, and He can see things you can't see. He gave you His Spirit so that you won't be fooled into making bad choices. Make sure you pay attention to Him and do what will make you strong in your spirit, which is much more important than anything else you can choose. Read James 1:5 for an awesome promise from God.