It's been almost 5 1/2 years since our beautiful 23-year-old daughter, Naomi, took her life and it's still so hard to believe this happened. It's so wrong and it never should have happened, but it did.
We knew she was depressed and believed the cause was postpartum depression but now believe it was more complicated than that. We also learned of a traumatic experience that she had gone through that would have added to her depression.
There are so many events that happened in the 3 1/2 months before her taking her life that I have gone over and over in my mind, trying to put it all together and make sense of it all. I had so much guilt as I replayed conversations that we'd had over and over in my mind, thinking the outcome could have been different if I had asked different questions or been there more for her.
We actually thought she was getting better because she showed signs of being more of her happy self at times. I know she was afraid to tell us that she was in a worse place than we realized, which breaks my heart.
In November of 2013, a little over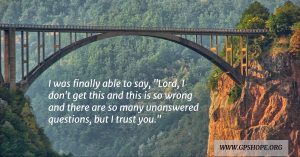 1 1/2 years since Naomi left this earth, we saw Steven Curtis Chapman in concert and one of the things he said was, "I probably have more questions now than I've ever had, but I think the question that the Lord is asking us is, 'Will you trust me?'" I broke down when I heard him say that because that was my struggle. "Do I trust you, Lord? I want to. Help me to!"
On July 24, 2014, our daughter's birthday, I was finally able to say, "Lord, I don't get this and this is so wrong and there are so many unanswered questions, but I trust you." There are things that happen in this life that are so painful and tragic and wrong, but as Papa said in The Shack, "Just because I can bring incredible good out of incredible tragedy doesn't mean I orchestrated the tragedy."
God is good and He is faithful and He is the healer of the brokenhearted and He WILL give beauty for ashes! I trust that!
What you have just read was written by Denee Martindale. In the last couple of years, Denee has become a precious friend. Our daughters actually knew each other growing up, through school and local church activities, but it has only been since they both died that we have gotten to know one another on a deeper level.
There are three things that I think are important to notice in what Denee has shared.
Guilt did not serve her well. 
The "if only's" and deep regrets don't change anything. In fact, as long as we are in that frame of mind, we are continuing to feed the darkness and depression we all face after the death of our child (especially one who ended his or her own life).
It took quite a long time to let go of that guilt.
Naomi passed in April of 2012. Denee was tortured with the guilt for over a year and a half. And even when presented with the truth that God was asking her to trust Him beyond all of her unanswered questions, it took another eight months before she was ready to do so.
I know many of you who are reading this have been in that same place for much longer. (This is not a judgment, just an observation.)
The solution was not in herself.
Denee had to let go and trust the One who holds life and death in His hands, and loves both you and your child more deeply than any of us can comprehend.
Coming to a place of acceptance that God did not cause the death of our child, is where many of us have to start. Then we need to accept the fact that He had a reason for not stepping in and stopping our child's death that will not make sense to us on this side of eternity.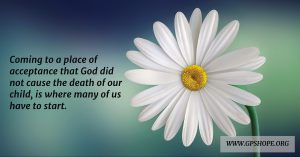 Unfortunately, many of us have a misguided definition of faith, which makes all of this even more difficult, and can be part of the guilt we find ourselves trapped in. True faith is not getting the answers we want (or we "claim") to our prayers. True faith is trusting Him when certain prayers are not answered in the way we prayed, believing that He can see what we cannot see, and knows what we do not know.
It is important for us to grasp that this life and what we can see, hear, touch and feel, is only temporary. Our child is on the other side of eternity, and we will be joining them some day. Thankfully, our extremely painful separation is not permanent. We can release the guilt, knowing our children are in the safest, most wonderful place possible. Yes, I know we would much rather have them here with us, but wanting that, and hanging on to guilt because they aren't, will not change it. So we might as well make a decision to let it go.
I encourage you to do exactly what my friend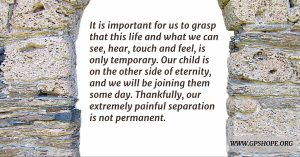 Denee did. Don't rely on your own strength or desire to trust God with the most painful thing you have ever faced. Be honest with Him. If you are like Denee, tell Him, "I want to trust you. Help me to!" And if you are not to that point of wanting to trust Him, tell Him! And then ask Him to help you to want to trust Him.
Myself and thousands of other bereaved parents have come to the same conclusion as Denne; God is good and He is faithful and He is the healer of the brokenhearted and He WILL give beauty for ashes!
We trust that! And you can, too.

Expressions of Hope is written by author and speaker Laura Diehl to bring hope, light and life to those struggling in darkness after a tragedy, especially bereaved parents. If you would like more information about Laura as an author or a speaker for your next event  click here. 
GPS Hope exists to bring hope to parents who have suffered the death of a child, acknowledging their unique grief with support, connection and education for them and those around them.