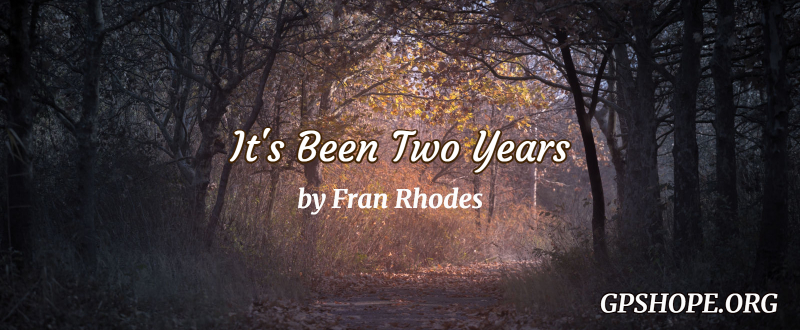 It's Been Two Years
Your smile was worth a thousand words
To everyone you knew.
It lit up a room wherever you went,
The love in our hearts grew and grew.
It's been two years since I've seen you,
The days seem never ending.
My Savior, My Redeemer,
It's on Him I am depending.
There were many trying times,
And hardships along the way.
But your endurance was admired
Each and every single day.
You are the apple of my eye,
The biggest hero I'll ever meet.
I must lay down my sorrows
At the cross, at Jesus' feet.
Losing a child, who is part of your soul,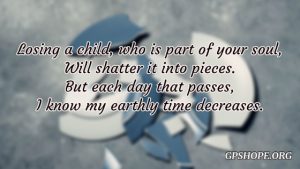 Will shatter it into pieces.
But each day that passes,
I know my earthly time decreases.
I will be reunited with you again
And see your body pure and whole.
Until then, I just hold on
To God, who is in complete control.
There are still so many questions
That I don't understand, big and small.
I will remain in this waiting room,
And know God catches me when I fall.
My prayer was urgent, but God said no.
I trust Him anyway.
It's for His glory and for my good;
I tell myself it will be okay.
Grief feels like you've been punched in the gut;
There is no more air to breathe.
To think your sweet precious body
Is in the ground, underneath.
But Jesus knew that day would come,
No more sorrow, no more pain.
Your body was made brand new,
No more suffering, only gain.
You're in my thoughts every hour,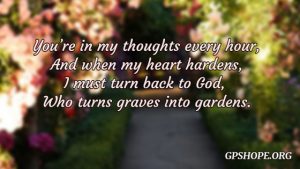 And when my heart hardens,
I must turn back to God,
Who turns graves into gardens.
Your sweet little hands, I miss,
And even though you didn't speak a word,
I could understand your soul,
For in your eyes, it was greatly heard.
I'll always be your mama,
As we are connected heart to heart.
The joy I have to look forward to,
Knowing one day, we will never part.
I must choose to be happy for you.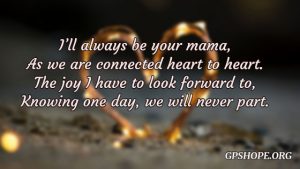 I'm jealous you're with the One
Who sacrifices and saves,
For it is finished, it is done.
Written by Fran Rhodes for her son Charlie.

Do you have a difficult time finding things that bring you comfort? We have put together a list of thirty ways on how to bring yourself comfort and take care of yourself after the death of your child. We know God is the ultimate comforter, but it can help when we know how to give Him something to work with and to flow through. 
Let us know below if you would GPS Hope to send you this list. You will also begin to receive a Weekly Word of Hope, that is easy to unsubscribe from if you no longer want to receive it.

Expressions of Hope is provided by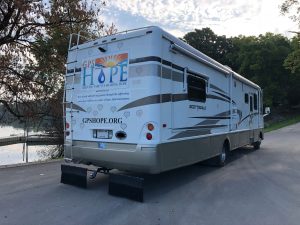 Grieving Parents Sharing Hope (GPS Hope). The founders, Dave and Laura Diehl, travel full time in their Hope Mobile (a 38-foot motor home) to be more easily available for speaking and ministry requests, and bringing intimate weekend retreats to bereaved parents. Laura is also a singer/songwriter and the author of multiple award-winning books.
If you would like more information about bringing Dave and Laura to you for an event, please send an email to office@gpshope.org.
If you are interested in bringing GPS Hope to your area for a weekend retreat click here.