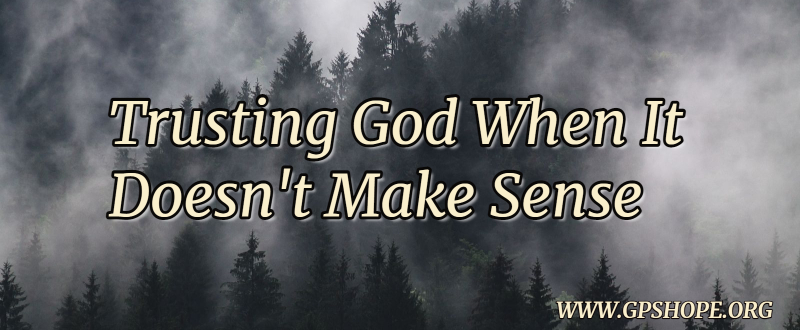 I recently had Linda Dillow as a guest on the Grieving Parents Sharing Hope podcast. Linda and her husband, Jody, served eighteen years on the mission field, with most of them being behind the iron curtain during Communism, working with leaders of the underground church. Linda faced many dark and frightening circumstances during that time.
They now live in Colorado. During the height of the COVID pandemic, she found herself fighting a different set of dark and frightening circumstances, as she had two daughters battling cancer on opposite ends of the country. Because of rare genetics, one will have this cancer monster hanging over her for the rest of her life, and the other only lived for a few months after being diagnosed.
Linda has had to go back to what the Lord has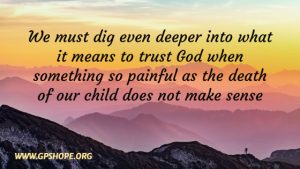 taught her over the years, digging even deeper into what it means to trust God when something so painful as the death of our child does not make sense.
How Often Have You Studied the Book of Habakkuk?
Habakkuk is a small, often overlooked book in the Bible, but it is one we can turn to when faced with painful circumstances that do not make sense. Linda has turned to it many times over the years, but especially during this time of painful turmoil.
We first find Habakkuk crying out to God to deliver the nation of Israel from their wandering away from Him which had led them to a place of violence, depravity and injustice. The book opens with him crying out, "How long, Lord, must I call for help, but you do not listen?"  (Sound familiar?)
God's answer of deliverance made no sense in the natural mind, because it was to send the most brutal nation in the world at the time, to take over and rule the nation of Israel, even removing them from the Promised Land God had led them to, taking them as slaves into Babylon.
God's "cure" certainly looked much worse than the disease. Because Habakkuk knew the character of God, God's solution baffled him. But instead of getting angry at God and demanding answers to his whys, he waited. He waited to see how God would answer him.
Not only that, but Habakkuk did something amazing. He said he would also wait to see how he would answer when God corrected him! (Habakkuk 2:1)
What???
As I already stated, Habakkuk knew God's character, which meant he also knew that he was looking at God's solution through his own eyes of humanity when it didn't make any sense. Why would God make it worse, instead of better? He wanted to see what God saw. Habakkuk was asking to see the end results instead of the immediate pain and suffering they were going to have to go through that made no sense whatsoever, as the answer to his prayers.
The Question "Why?"
Let me say this again in a different way, because it is crucial for us to understand what is happening here.
Habakkuk did not ask God "why" because he thought God was wrong and was demanding that God explain Himself. He asked why because he knew that he was wrong in not trusting what God was doing and wanted God to correct him. Instead of being angry and blaming God for making things worse, he invited God into his thoughts by saying, "I don't understand what You are doing, but I know that You are right and faithful in all things. Please speak to me and correct me so that my thoughts line up with your thoughts, even in the horrible pain of what you are allowing in my life."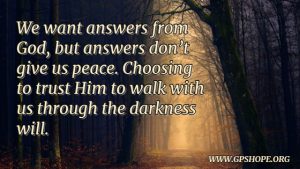 Habakkuk wasn't looking for answers, he was looking for peace. Answers don't give us peace. Placing the painful mess in God's all-knowing, loving hands and choosing to trust Him to walk with us through the darkness will.
The short three-chapter book ends with Habakkuk surrendering to God's plan, even when it brings more pain, is a way to bring about the end result of freedom and being back in a trusting relationship with a loving and faithful God.
It doesn't feel that way in the pain, though, does it? It seems like God is anything but loving and faithful!
Even Jesus felt that way when hanging on the cross. In His pain and suffocating darkness, He cried out, "Father, why have you left me and turned your back on me?"
It comes down to making a choice. Are we going to choose that God is wrong, and I can no longer trust Him? Or are we going to choose to realize that there is no way I can understand the greatness of God because I cannot see the final outcome, and even though I don't understand why He has allowed the death of my child to happen, knowing how much pain and darkness I would be in, I am going to continue to trust in His character and His love for me and my child.
Final thought…
The book of Habakkuk ends with him making this declaration (Habakkuk 3:17-18 NIV):
Though the fig tree does not bud
and there are no grapes on the vines,
though the olive crop fails
and the fields produce no food,
though there are no sheep in the pen
and no cattle in the stalls
yet I will rejoice in the Lord,
I will be joyful in God my Savior.
Here is verse 18 in several different versions.
I will rejoice in the Lord. I will rejoice in the God of my deliverance. (CEB)
even then, I will be happy with the Lord. I will truly find joy in God, who saves me. (GW)
yet I will have joy in the Lord. I will be glad in the God Who saves me. (NLV)
Then I will stillrejoice in the Eternal! I will rejoice in the God who saves me! (VOICE)
…And my personal favorite…
Counting on God's Rule to prevail, I take heart and gain strength. (MSG)
As you read it again below, fill in the blanks with your own words Maybe even write it out as your own declaration as a reminder that you are choosing to trust Him when you cannot see the outcome.
Though the _________________________ and there are no ­­­­­­­­­­­­­­_____________________________,
though the _____________________________ fails and the _______________________________
though there are no __________________________ and no _____________________________
yet I will ____________________ in the Lord, I will ________________________ in God ____________________.
If you are not at a point where you can do something like this, it's okay. It can take two or three years before we can begin to see any hope that something like this is even possible. Ask the Holy Spirit to help you get there, and then give yourself lots of grace during the process. It can be a long journey, and it is not one you have to walk alone.  We can walk it together.

Part of this blog was taken from the Grieving Parents Sharing Hope podcast, Episode 195: Trusting God When It Doesn't Make Sense. This was part one of Laura's talk with Linda Dillow. The second half can be found here: Episode 196: A Declaration of Hope After Child Loss.
As shared above, you do not have to walk this journey alone. If you would like to be part of the GPS Hope community, the best place to start is by asking to receive Laura's Weekly Word of Hope. You will also receive information on other resources provided by GPS Hope and can unsubscribe at any time.
Expressions of Hope is provided by Grieving Parents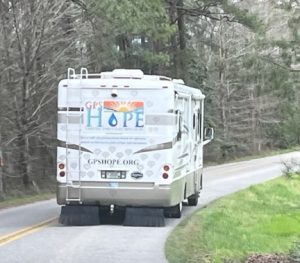 Sharing Hope (GPS Hope). The founders, Dave and Laura Diehl, travel full time in their Hope Mobile (a 38-foot motor home) to be more easily available for speaking and ministry requests, and bringing intimate weekend retreats to bereaved parents. Laura is also a singer/songwriter and the author of multiple award-winning books.
If you would like more information about bringing Dave and Laura to you for an event, please send an email to office@gpshope.org.
If you are interested in bringing GPS Hope to your area for a weekend retreat click here.