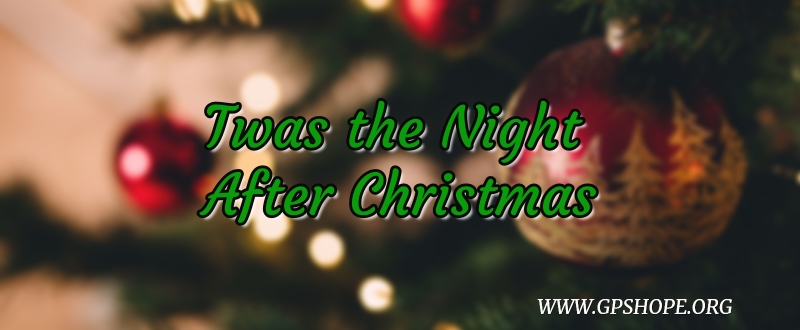 Twas the Night After Christmas
-By Author Laura Diehl
Twas the night after Christmas and I was still numb;
The holidays felt like they had not really come.
It's hard to explain, but it didn't seem fair,
That my child is now gone, and I cannot share
The laughter and joy of this fun holiday
In our wonderful, traditional family way.
She is not nestled all snug in her bed
With memories of another Christmas filling her head.
"Will it ever get better?" I ask in my heart,
Knowing that each year we will remain apart.
As I cry out to God full of heartache and tears,
He reminds me His presence remains very near.
And though I don't feel a desire to celebrate
The reason to do so remains very great.
For Jesus came as a baby on earth
To give life here meaning, value and worth.
And even though I have said goodbye
And I am confused and don't know why,
The truth remains I will see you again
And there will be no more tears or pain.
But until that day comes and it's my turn to go
There is one thing that I certainly know,
The love that I have for you is without measure
And you remain in my heart, as a beautiful treasure.
And while dreading to go into a year that is new
I realize each day brings me closer to you.
My Christmas may not have been merry and bright,
But because Jesus came, someday, it will all be made right.

Are you a newly bereaved parent, having lost your child in the last year or two? If so, we would like to send you a word of hope and encouragement from someone who has been right where you are. You are not alone. Let us here at Grieving Parents Sharing Hope (GPS Hope) walk with you on this unwanted life-long journey.
(Along with this PDF, you will be added to our email list to receive a Weekly Word of Hope, which you can unsubscribe from at any time.)
Expressions of Hope is written by author, speaker and singer Laura Diehl. She and her husband, Dave, are the founders of Grieving Parents Sharing Hope (GPS Hope). Dave and Laura travel full time in their Hope Mobile (a 38-foot motor home) to be more easily available for speaking and ministry requests, including being invited to hold one-day GPS Hope & Healing conferences.
If you would like more information about Laura as a speaker for your next event or want more information on hosting a GPS Hope & Healing conference, click here.