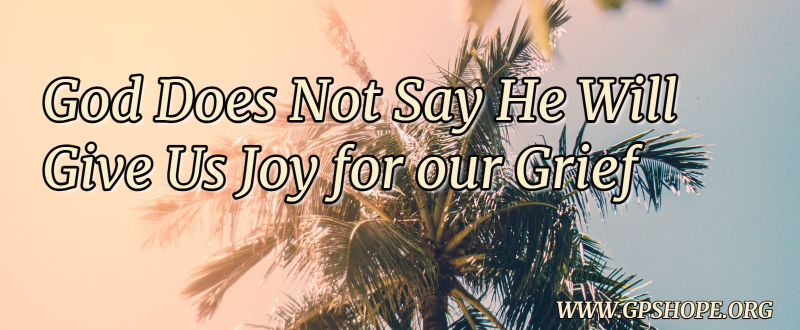 Many of us are familiar with Isaiah 61:3 that tells us God will give us the oil of joy for our mourning.
Did you know there is a difference between mourning and grief? Mourning is the expression of deep sorrow for someone who has died. Grief is what we think and feel on the inside when our child (or someone we love)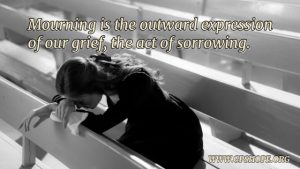 dies. It is the loneliness, the fear, depression, emptiness, etc. Mourning is the outward expression of our grief, the act of sorrowing.
This is huge because I always thought this verse meant that God would replace my grief with joy, but that is not what He is saying.
If you are like me, the death of my daughter, Becca, became my identity. When I met someone, I wanted to introduce myself as, "Hi, I'm Laura, and my daughter died." I wanted people to know what I was going through and how much pain I was in.
I believe this is what God was talking about in this verse. He is saying that he will take away our need to express our grief. We will grieve for the rest of our lives, but we won't always mourn. We will not always have a need to constantly express the pain of our loss.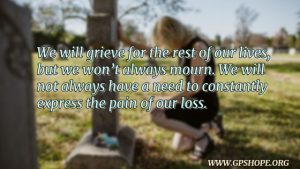 I want to point out that joy and laughter are still important in our lives. The physical healing that takes place in our bodies with a good laugh is incredible. God is the one who created our bodies to respond to laughter, which means happiness is important to Him!
Psalm 2:4 says that God sits on His throne and laughs.
Ecclesiastes 3:4 tells us there is a time to laugh.
In Job 8:21 we read He will fill our mouths with laughter.
I am not saying this to imply that we are to live from a place of happiness and laughter with our child gone. What I am saying is that God wants to replace your mourning – your expression of the pain of missing your child – with His Spirit, to eventually be able to express joy and even happiness for the good things that are still in your life (and are yet to come).
The first step we need to take is to believe having joy in our lives again is even possible, and then to actually want it back in our lives. Joy comes from a place of hope. Proverbs 10:28 (ESV) says, The hope of the righteous brings joy.
The final enemy to be defeated is death itself, and that is something to look forward to and get excited about. This means that instead of the outward expression of missing our child, it is possible to carry the outward expression of our excitement of seeing them again!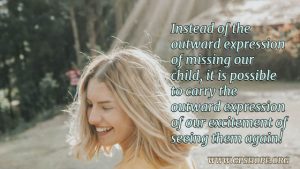 Can you start to see how it is possible for God to give us the oil of joy for our mourning?
There is joy on the other side of our pain. But you don't have to wait for the fullness of it until you are with your child again, because right now, God wants to give you the oil of joy for your mourning.
Now may God, the fountain of hope, fill you to overflowing with uncontainable joy and perfect peace as you trust in him. And may the power of the Holy Spirit continually surround your life with his super-abundance until you radiate with hope! Romans 15:13 (TPT)

This was only part of a recent episode of the Grieving Parents Sharing Hope podcast. To listen to it in its entirety directly on the GPS Hope website, click here. If you would like to listen to it on the GPS Hope YouTube channel, click here. Or you can find it (Grieving Parents Sharing Hope: Episode 182) on your favorite listening app.
If you would like to join thousands of other bereaved parents receiving a weekly word of hope delivered to your inbox, let us know below.
Expressions of Hope is provided by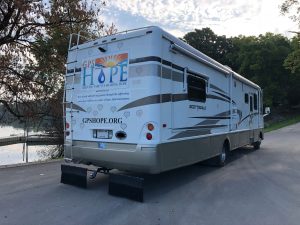 Grieving Parents Sharing Hope (GPS Hope). The founders, Dave and Laura Diehl, travel full time in their Hope Mobile (a 38-foot motor home) to be more easily available for speaking and ministry requests, and bringing intimate weekend retreats to bereaved parents. Laura is also a singer/songwriter and the author of multiple award-winning books.
If you would like more information about bringing Dave and Laura to you for an event, please send an email to office@gpshope.org.
If you are interested in bringing GPS Hope to your area for a weekend retreat click here.