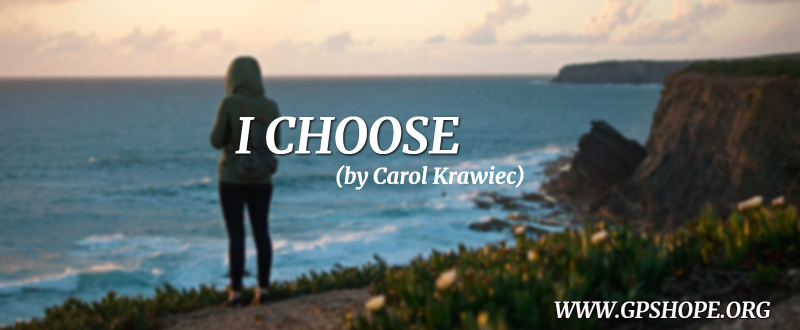 The following was written on April 28, 2014, two years to the day after losing our oldest son Daniel.  It was the week after Easter. Our pastor had preached a message about what it was like for the disciples to live in the "Saturday" of that resurrection weekend.  He compared the pain and confusion of that day following the death of Jesus to the world we live in today. He spoke of the joy of the resurrection on "Sunday' and the secure hope that we as believers in Jesus Christ can cling to in the midst of trials.
That morning was a turning point for me in my journey of grief.  I had walked through the first year numb and in a fog.  The second year was so painful because as the fog began to subside, I felt the intense loss.  Over the past ten years my grief has come in waves.  As the waves recede, I am filled with a sense of God's presence and a peace in knowing that Dan was at rest, and all is well with my soul.
In May of 2019 and June of 2021, we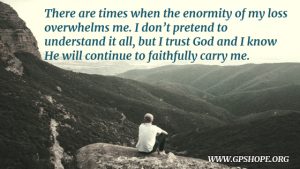 also lost Timothy and Benjamin, the two youngest of our five sons. It has taken many years of leaning into my grief to move along in my journey. It is far from over as I find myself in that place of raw grief once again. There are times when the enormity of my loss overwhelms me. I don't pretend to understand it all, but I trust God and I know He will continue to faithfully carry me.
I CHOOSE
Life was forever changed two years ago, early on a Saturday morning.
As I sit on the floor of this room that was once occupied by our son
I choose not to allow the memory of the horrific discovery be my only thought.
I choose to picture this room as the place of a Holy visitation.
I choose to picture bright light breaking through the darkness of a raging battle.
I choose to visualize the broken chains that bound him to addiction lying on the floor.
I choose to be proud of the countless battles that our son won throughout his journey.
I choose to believe that although the enemy won the battle that day, God was victorious.
I choose to let the cleansing tears of a broken heart flow because I know that Jesus wept.
I choose to lift my hands in worship to my God and thank Him for the gift of 32 years.
I choose to believe that although this world is far from good, my God is Good.
I choose peace over anxiety; acceptance rather than anger; hope over despair.
I choose to believe that the pain I feel today is a reminder that this is not my Home.
I choose to rest secure in knowing that my child is forever with the Lord.
Because:
"No power of hell, no scheme of man,
Can ever pluck me from His hand;
Till He returns or calls me home,
Here in the power of Christ I'll stand."
I choose to believe that even though I am living in the pain of "Saturday,"
"Sunday" is coming and it will all make sense when I see Him Face-to-face.
Carol's three sons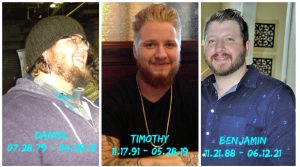 Many of us feel guilty after the death of our child, thinking we should have done more, or made a different decision, or been there for them in a different way than we were, etc. Click here to read Help! I Feel so Guilty… written by a mom whose daughter died by suicide.
If you struggle with guilt, we would like to send you Ten Tips to Overcome Guilt. Just click here and fill in your name and email address and hit submit.
We promise we will not spam you. However, you will be added to our growing family of thousands of bereaved parents who receive a Weekly Word of Hope email each Wednesday morning. (Just use the unsubscribe button at the bottom of each email if you no longer wish to receive it.)
Expressions of Hope is provided by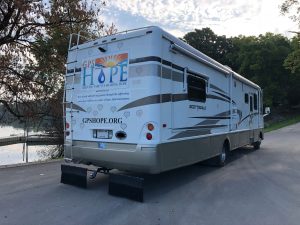 Grieving Parents Sharing Hope (GPS Hope). The founders, Dave and Laura Diehl, travel full time in their Hope Mobile (a 38-foot motor home) to be more easily available for speaking and ministry requests, and bringing intimate weekend retreats to bereaved parents. Laura is also a singer/songwriter and the author of multiple award-winning books.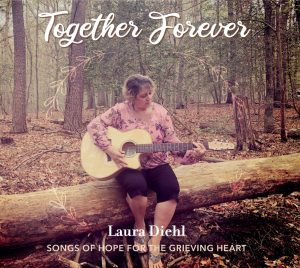 If you would like more information about bringing Dave and Laura to you for an event, please send an email to office@gpshope.org.
If you are interested in bringing GPS Hope to your area for a weekend retreat click here.