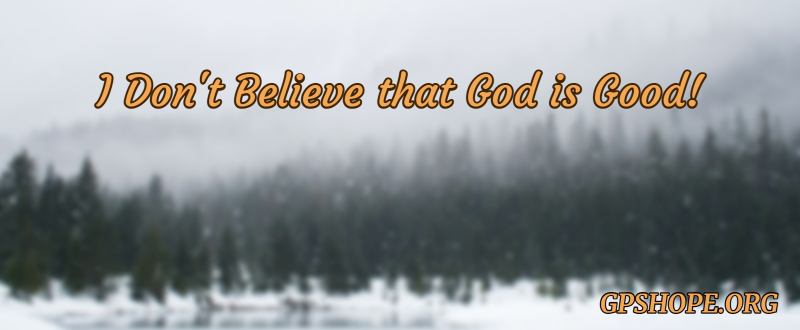 After a severe tragedy, such as the death of our child, it can be extremely difficult to reconcile the thought that God is good. If He is such a good Father, why does he allow such pain to come into our lives? Why didn't He step in and save our children from death?
I want you to hear from another pareavor (bereaved parent) whom I know.
Dennis Apple, who was a pastor when his son died, shares in his book Life After the Death of My Son how he was disappointed and angry with God. Dennis says he was "hanging out near the back door of my faith," and for a long time he refused to say or sing the phrase, "God is good all the time."
I don't care for that phrase either when it is used in a congregational setting, especially when we are supposed to respond back, "And all the time God is good." It's not because I don't believe it. It's because we each have our own definition of what that means to us.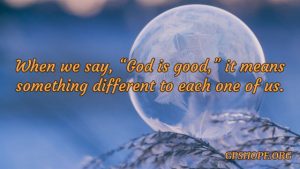 For many Christians, when they say "God is good," it means God won't let anything really bad happen to me in this life. So, when a tragedy happens (like our house burning down to the ground, or the death of our child), we decide He isn't really good, because a good God wouldn't do this to me.
How did Dennis get past that? Dennis states as he came to a crossroads, he asked himself a couple of questions: Do I believe there's a sovereign God who knows and sees all, including my suffering over the loss of our son? Am I going to trust in this sovereign God whom I don't always understand? After wrestling with these questions for a long time, he was able to say through painful tears, "Yes, I believe in Him, and yes I will trust Him."
His wife, Beulah, also made a conscious decision after several years of deep grief. Did she want to remain in this same dark place she had been in for almost five years, or did she want to come out of it and make the best of her life and her family that was still here? She chose to "lay aside the garment of grief and mourning, sweep up the ashes that surrounded her, and go on." It was a turning point for both her and their marriage.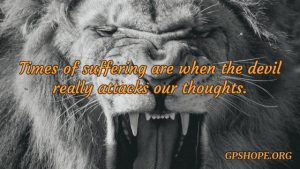 Times of suffering are when the devil really attacks our thoughts. "If God really loved you, you wouldn't be going through this." "If God was really good, He wouldn't have let this happen." The truth is, both believers in Christ and nonbelievers can face extreme hardships. Being a Christian does not mean that we won the lottery to a trouble-free life here on this earth. That would not be love, that would be bribery on God's part.
The difference is that those of us who have made Jesus Lord of our lives have someone to give us peace in the storms. We have someone who will walk with us, giving us comfort and direction. We have someone who is working on our behalf to make sure we are not destroyed by the tragedies, but are delivered through them. We have someone who is working that devastating loss into something that can bear good eternal fruit. We have someone who can bring joy back into our lives again, even when we think it's impossible.
We have someone who cares so deeply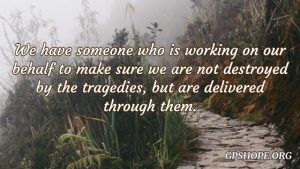 that He allowed His Son to be brutally beaten and endure a torturous death, so that we could be reunited with our children forever. The act itself of Jesus being beaten and hung on a cross was not good, but the eternal fruit of Jesus entering hell to snatch the keys of hell and death, and His resurrection certainly was good!
It is very common to struggle with one's faith after the death of their child. It may be for just one day or it may be for several years. In the midst of our pain and darkness, we all have to reevaluate who we thought God was, which can open the door to find out who He really is, while discovering a much deeper meaning to the phrase God is good all the time, and all the time God is good.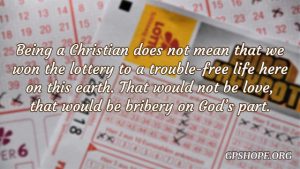 So, the question remains: Is God good all the time? The enemy who is trying to get you to turn your back on God (the same enemy who brought death, pain and darkness into this world) wants to you to think no, He is not good. That is why Satan is the enemy. He has plans and tactics to turn you away from God and His love for you and your child, and he knows the death of your child makes you a much easier target to be able to do that.
But the fact is, God defeated this same enemy in the eternal realm so that we can defeat Him, too. And because of that, hopefully you do not want to be deceived by the enemy and come into agreement with him and his lies.
So, yes, God is good. We may not understand the "why" this side of eternity, but we can trust in the eternal goodness of God. Say it out loud, and say it with conviction, to get the enemy to start backing down. "God is good!"

The very first book I wrote is called Triple Crown Transformation. "See the crown" is about seeing God's vision for our lives. "Wear the crown" is about who He is in our lives, and "be the crown" is learning more about our eternal identity.
Let us know below if you would like to receive a free eBook copy.
Expressions of Hope is provided by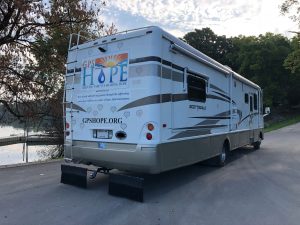 Grieving Parents Sharing Hope (GPS Hope). The founders, Dave and Laura Diehl, travel full time in their Hope Mobile (a 38-foot motor home) to be more easily available for speaking and ministry requests, and bringing intimate weekend retreats to bereaved parents. Laura is also a singer/songwriter and the author of multiple award-winning books.
If you would like more information about bringing Dave and Laura to you for an event, please send an email to office@gpshope.org.
If you are interested in bringing GPS Hope to your area for a weekend retreat click here.