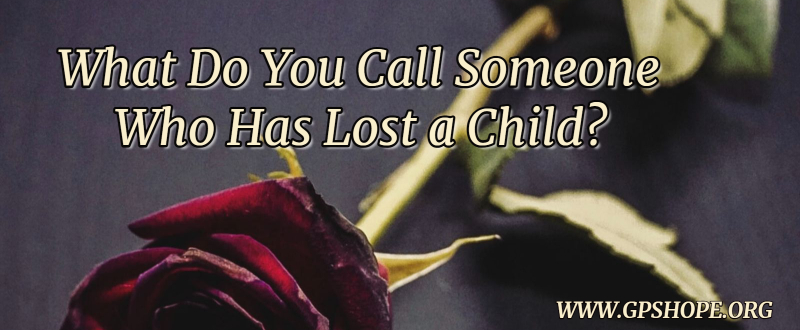 After our daughter, Becca, died, I knew there was no word that could even come close to describing my pain. At the same time, I wondered why there is not a word for those of us who are still here after the death of our child. Someone who has lost their parents is an orphan. My son-in-law became a widower, and of course, a woman whose husband has died is called a widow.
This started to really bother me.
I did a search to see if I could find something. Nothing came up at the time. Since then, there is a word I have seen around here and there, which I talk about on the Grieving Parents Sharing Hope podcast (episode 216 where this specific blog came from).
When we hear the word widow or orphan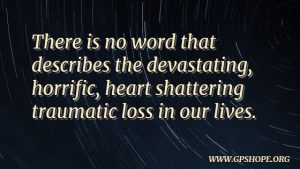 about someone, we know what type of life-changing loss they have experienced. But when telling someone about our loss, it is along the line of, "Her child died." There is no word that identifies the devastating, horrific, heart shattering traumatic loss in our lives.
When we lose a child, it changes our identity, even if we still have other children still here with us. It especially changes our identity if you have lost your only child, or all your children.
Even though all our journeys are different, when you meet someone who has lost a child, there is an instant connection. It doesn't matter what different beliefs we might have politically, spiritually, or otherwise. There is something that pulls our hearts together because you are someone who can relate to me in a way very few others can. You know what it is like to experience this loss that is like no other loss.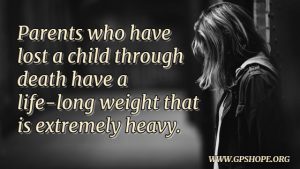 I think it is important to have a word that validates the fact that parents who have lost a child through death have a weight that is extremely heavy…heavier than most will experience in this life. Not as a label to give us permission to wallow in our deep sorrow, but one that draws us together to be able to strengthen and encourage each other within our life-long club membership that none of us wanted.
So, just who are we after the death of our child? Is there a word that unites us? A word that at least implies the depth of our pain?
I believe there is, and it is the word pareavor.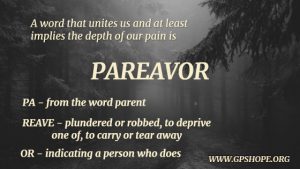 "Reave" comes from the word bereave. According to Merriam-Webster the meaning/definition of the actual word "reave" is: to plunder or rob, to deprive one of, to seize, to carry or tear away.
I think those are some pretty good descriptions of how we felt when our child died.
So, if we take away the "be" in bereave and replace it with a "pa" (because "pa" comes from the word parent: a person who is a father or mother; a person who has a child (Merriam-Webster)), we get pareave.
Then when you add an "or"  at the end (indicating a person who does something (Wiktionary)) you get the word pareavor.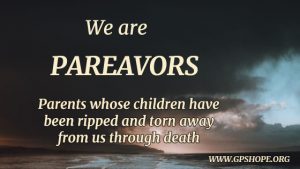 The word pareavor sounds like a pretty good description of what happens when our child dies, no matter the age of the child. We are parents who have been deprived of our children who were seized and torn away from us through death. We are pareavors.
Who am I? I am a teacher, an author, a podcaster host, a singer/songwriter, full time RVer; I am a wife, a daughter, a mom, a grandma, an aunt, a niece, a friend, a cousin, a cat-lover, and… I am a pareavor. A parent who was violently robbed of my daughter's life – a parent bereaved of my child.
Let me say that I am sorry you have a reason to even consider this as an option in your life as a description of who you are now as well.
No matter what words we use, either to try and describe what it is like or to specifically identify ourselves as someone who has faced the devastation of child loss, we are still all in this together.
We are pareavors – parents who are bereaved of our child. They may have been ripped away from us here on earth, which causes tremendous pain, but thankfully, it is not a permanent separation.

This was taken from the Grieving Parents Sharing Hope podcast, episode 216. To listen to more than what was shared in this blog, click here, or find the Grieving Parents Sharing Hope podcast on your favorite listening app.
Would you like to receive a Weekly Word of Hope written and sent by Laura? Let her know below. Your email address is safe with GPS Hope.
Expressions of Hope is provided by Grieving Parents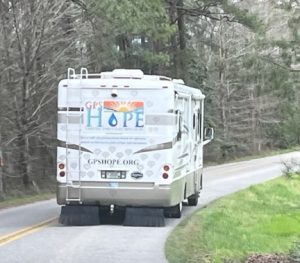 Sharing Hope (GPS Hope). The founders, Dave and Laura Diehl, travel full time in their Hope Mobile (a 38-foot motor home) to be more easily available for speaking and ministry requests, and bringing intimate weekend retreats to bereaved parents. Laura is also a singer/songwriter and the author of multiple award-winning books.
If you would like more information about bringing Dave and Laura to you for an event, please send an email to office@gpshope.org.
If you are interested in bringing GPS Hope to your area for a weekend retreat click here.