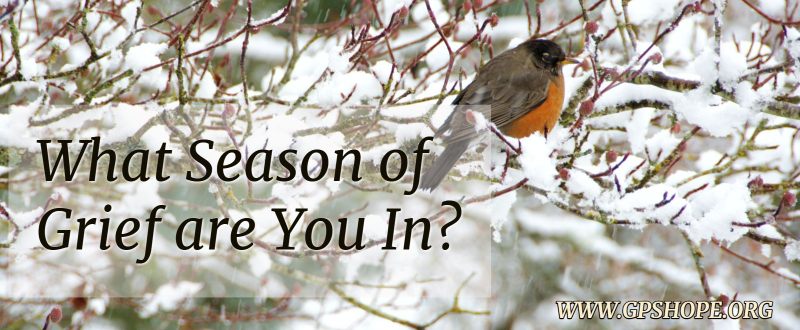 I don't know about where you live, but in Wisconsin it's always exciting to see the first robin of the year because it is a sure sign that spring is coming, even though there will probably be more snow. Both have happened. Robins have been seen, and they just got another twelve-hour snowstorm that dumped five to eight inches of snow!
Some years, the warm weather and the beauty of colorful flowers, green trees and grass, can arrive quite late, causing us to feel anxious. This makes me think about how anxious we can be in our grief, as well.
"When will I stop hurting so bad?"
"I don't think I will ever enjoy life again."
These are things we think and say, especially the first two or three years after the death of our child.
Everything is colorless, and we feel bitterly cold and dead inside ourselves. We can't see a way out, thinking this is how it will be for the rest of our lives.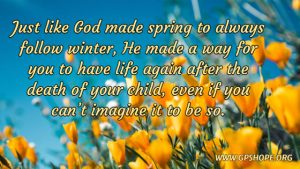 I have recently had several moms tell me that they didn't think they ever would or could get past the darkness, but now two years, or three years, or five years after their child's death, something is stirring inside them that they want to start feeling alive again. I see this as a sign that the "winter" of grief is coming to a close, and the new growth of spring is on its way.
There is no right or wrong amount of time for us to be in that dark suffocating place of grief. But wherever you are on this journey, I pray that this spring will give you a sign as a reminder of hope, that just like God made the sun to rise every morning, and spring to always follow winter, that He made a way for you to have life again after the death of your child, even if you can't imagine it to be so.
As you know, it is lent, which leads up to Easter, the day we specifically remember Jesus' death and resurrection. Even if you are angry at Him for not stepping in and saving your child from leaving this earth, I encourage you to take a moment to thank Him, that at least He made a way for you to be with your child again very soon, never to be separated again, because of what Jesus came to earth to do in reconciling a sinful decaying world to Himself.
Until that day comes, I hope you will also join me in being thankful that the winter season is coming to a close and spring is on its way, both physically in the seasons, and emotionally in our grief.
Oh, that we might know the Lord! Let us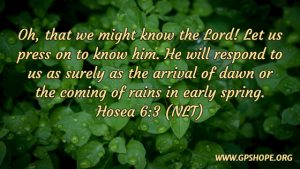 press on to know him. He will respond to us as surely as the arrival of dawn or the coming of rains in early spring. Hosea 6:3 (NLT)

Taken from the soon-to-be-released book Reflections of Hope: A Daily Reading for Bereaved Parents. Click here for details.
This was part of Episode 204 of the Grieving Parents Sharing Hope podcast. Click here to listen to the rest of what was shared on this topic, or look for the podcast on your favorite listening app.
Expressions of Hope is provided by Grieving Parents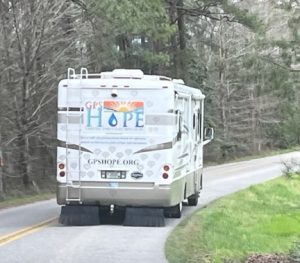 Sharing Hope (GPS Hope). The founders, Dave and Laura Diehl, travel full time in their Hope Mobile (a 38-foot motor home) to be more easily available for speaking and ministry requests, and bringing intimate weekend retreats to bereaved parents. Laura is also a singer/songwriter and the author of multiple award-winning books.
If you would like more information about bringing Dave and Laura to you for an event, please send an email to office@gpshope.org.
If you are interested in bringing GPS Hope to your area for a weekend retreat click here.