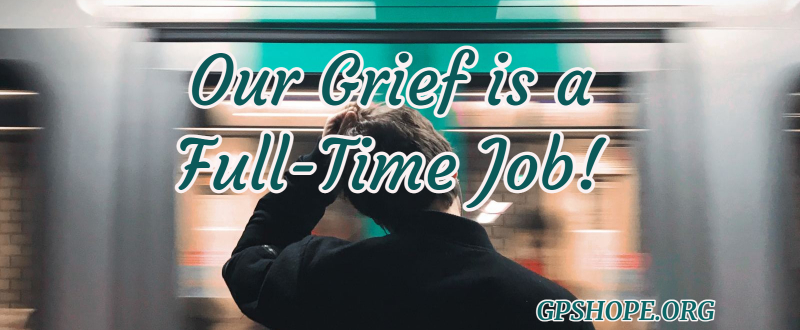 It can be exhausting trying to explain to family and friends why we don't want to (or can't) celebrate holidays and special events like we have in the past, especially when they just don't get it. Friends and family who mean well, can even insist that joining in the celebrations and festivities is just what we need. They tell us it is the best thing we can do to "get back to normal."
Insert loud "wrong answer" buzzer-sound right about now!
Here is something that might help to explain our grief, if not to others, at least to yourself.
For those first few months up to two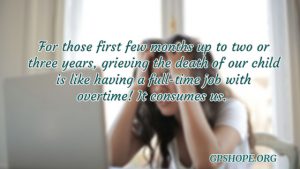 or three years, grieving the death of our child is like having a full-time job with overtime! It consumes us. It takes everything we have, whether we want it to or not. It drains us, leaving us to feel like there is just no way we can go on.
Eventually, our grief becomes more like a full-time job, thankfully without all the constant overtime. It usually sneaks up on us around three to five years into our grief, and we don't even realize it at first.
Grieving the death of our child is still the greatest part of our life. It still drains us and exhausts us, but now we have times of reprieve. We can go out and do something without feeling like we are on the verge of falling apart. We can join certain activities or family events (even if we aren't ready to stay the whole time) and have some smiles and laughs without feeling guilty. We can watch a movie and actually enjoy it, instead of just staring at the screen, oblivious to what we are watching.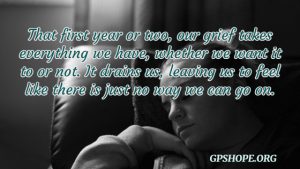 We clock back in to our full-time job of grieving afterwards, but it isn't all-consuming anymore, although we can still slip into overtime for a few days (even weeks) here and there.
Then, after several years of really hard work, we find ourselves able to go down to part-time grief. However, we are always "on call" because our grief is like an undercurrent, ready to surface in a split second. Sometimes we know there is something coming that will be a trigger, and other times we get slapped with it out of the blue with no warning, in a place we least expect it.
When that happens, we clock back in to increase our grief work time. Sometimes we are clocked in for a few minutes or hours. Sometimes it is for a day or two. And there are occasional times, when we need to go back to full-time, such as when our child should be graduating with their classmates, or a wedding happens that our child would have been in.
And yes, there will still be rare times when we go back to overtime, like the death of another close family member that triggers our deep grief. Eight years after my daughter, Becca, died, I found myself sobbing and wailing at my dad's casket. I didn't even do that at Becca's casket, but when I saw the boutonniere from her wedding pinned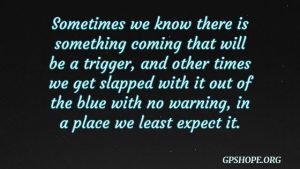 to his suit, I just totally lost it. I even knew it was going to be there, but it affected me so much more deeply than I anticipated. I was out-of-sorts for a few weeks, having a hard time focusing and functioning. (Then seven weeks later my mother-in-law, whom I loved dearly, passed away in her sleep, which didn't help at all!)
I am so glad to be back to part-time right now. But I know there will continue to be times when it goes back to fulltime for a while, and unfortunately, also overtime. But thankfully, that is very rare.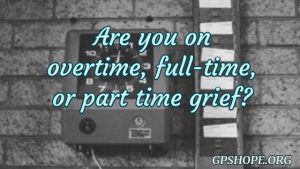 Where are you right now? Are you on overtime, fulltime, or part time grief? It's all hard work, but the overtime is just outright brutal! If that's where you are, what can you do to give yourself a short break now and then?
We can't stop the overtime until that work project is complete, but we can and need to take as many breaks as possible, no matter how short they are. The Holy Spirit knows exactly what you need and when you need it. If you feel a prompting to do something that doesn't make a lot of sense (obviously nothing harmful), then follow through on those promptings. You just never know how it will lift your load just a bit.

Do you struggle with self-care? We have put together a list of 30 simple things you can do, to take care of yourself and bring yourself comfort. Let us know below where to send it. (You will also begin to receive our Weekly Word of Hope, which you can unsubscribe from at any time.)
Expressions of Hope is provided by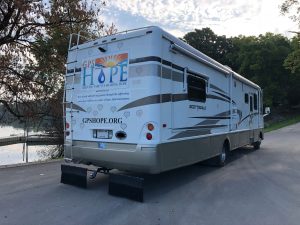 Grieving Parents Sharing Hope (GPS Hope). The founders, Dave and Laura Diehl, travel full time in their Hope Mobile (a 38-foot motor home) to be more easily available for speaking and ministry requests, and bringing intimate weekend retreats to bereaved parents. Laura is also a singer/songwriter and the author of multiple award-winning books.
If you would like more information about bringing Dave and Laura to you for an event, please send an email to office@gpshope.org.
If you are interested in bringing GPS Hope to your area for a weekend retreat click here.