Have you ever faced a tragedy, finding yourself in a very dark place as a result? You are confused, broken, in despair, and lost?
I have, more than once. (And many of you know about some of those experiences from my book Triple Crown Transformation.) But the one that left me in the deepest, darkest pit by far came from the death of our oldest daughter.
Many professionals say that experiencing the death of one's child is the greatest trauma a person can face. Those who have faced the death of their spouse, a sibling, or other losses and have also faced the death of their child, say losing their child takes them to a much deeper darkness than other losses, and it lasts so much longer.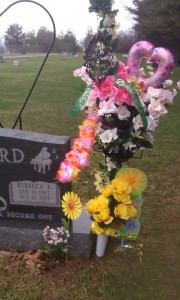 When Becca died (you can read about her story by clicking here), I didn't know anyone who had lost a child, and had no one to guide me through the darkness that made me think I was going crazy. I started reading books from other parents who had experienced the loss of a child, and most of them seemed to carry the message that our lives are forever a black mess we can't get out of.
I would read how angry and bitter these parents were; just waiting to die so they could rejoin their child.
I would read how their living children would say they also lost their mom when their sibling died.
This just wasn't acceptable to me.
I knew I had the seed of Hope living inside of me. I knew I wanted to be part of the lives of my other children and my precious grandchildren. I knew God still had a calling on my life, with a purpose.
So I fought!
I grabbed ahold of God with everything I had, and I fought. It took months, even years, because of how deep and dark that pit is when you have to bury your child. Sometimes I would feel the Lord reach down and help pull me up a bit, and other times I felt like I was fighting and clawing to the next foothold on my way up while He was under me, giving me the boost I needed.
It was messy, it was difficult, and it was painful beyond words. But I was victorious, because God's specialty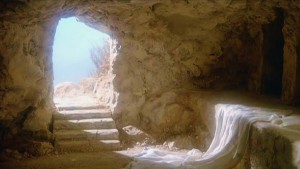 is bringing life from death!
Let me say that again. God's SPECIALTY is bringing life out of death!
ANY death, when put in His hands, will birth life!
And not only did I receive life, but during the battle, the Holy Spirit taught me so many things about myself, and about Him. Things about how I was living out of a false identity. How I didn't really know how to live from a place of resting in Him. How I had a deeply rooted sin of judging the heart and motives of others, and would try to manipulate them into doing what I thought they should be doing.
So not only did He bring me through the fire, He lovingly refined me in the process.
I must share that I still have the pain of grief. I will always feel my daughter's loss deeply, and my life will never be the same with her gone from this earth. But I have life again, beyond her death. And it is a life richer in God's love than I could have ever imagined.
If God can do this for me, He can do it for anyone. He can do it for you. He can do it for other parents who have lost a child from this earth through death.
And that is now a passion I have; to reach out to those parents behind me who have been thrown into that deep black pit, and offer them a hand of hope. I didn't have anyone to do that for me, and I don't want that to happen to anyone else on this dark horrible path of the death of a child.
About a year and a half ago, I woke up in the night with the title of a book (When Tragedy Strikes) and many of the chapter subjects. I got up and wrote everything down. It seemed the Holy Spirit was directing me to write a book, so I started. My plan was to learn how to publish the book myself, having no intent of pitching it to any publishers.
Apparently, God had His own plan which I wasn't aware of. In February of last year, Dave and I were at a conference in San Diego, where I met David Hancock, who is the founder of Morgan James Publishing. We had a conversation, and by the time we were done, I had his business card with a request to send him what I had written so far with the book I had started.
Five weeks later, I was offered a book contract, and signed it on what would have been Becca's 33rd birthday. I am still in total amazement of this!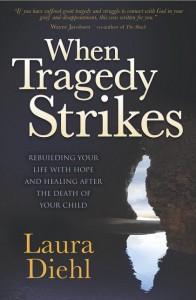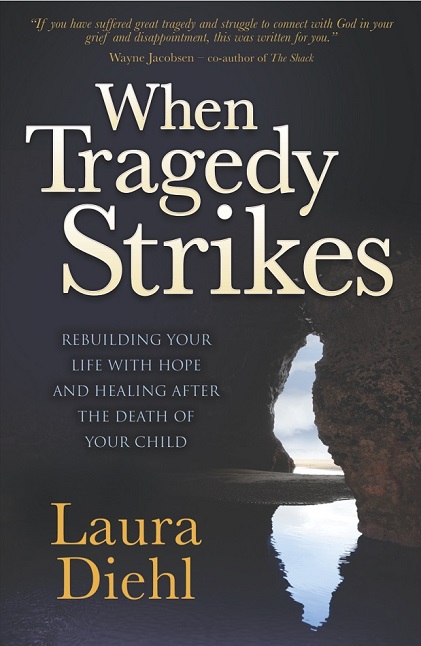 I never knew how much work is involved in writing a book and getting it published. And unless you are already a big name person with a huge public following, the greatest part of the leg-work of promoting and marketing a book falls on the shoulders of the author. And when you think about it, no one else is going to have the heart and passion for what was written on the pages more than the person who wrote it, so it makes sense that the author should be the strongest promoter.
SO…. In my passion for getting this message of hope and healing to as many hurting and grieving parents as possible, I am putting together a team of people who want to help.
I am seeking those who firmly believe in the power of unity! Those who know how God can move mightily through a group of people who are moving as one in Him, sharing His message of hope and healing.
I am looking for those who hate seeing the darkness Satan keeps people wrapped up in, and want to shatter that darkness with the light and life of the Risen King.
I want people who carry that seed of Hope within them and want to help me plant it in these precious ones who have lost their hope when they lost their child from this earth.
I need to be connected with those who have a passion to give others a crown of beauty instead of ashes, the oil of gladness instead of mourning, and a mantle of praise instead of a spirit of despair and heaviness (Isaiah 61:3).
If that is you, please click here, to find out how to join our When Tragedy Strikes Book Launch Team. There will be lots of benefits, including a free pre-release copy of my book.
And if you are a bereaved parent, let me first say how very sorry I am! You have my heart, as we have an instant connection. I would be so honored, and absolutely love to have you join us on the launch team.
We are here to be a light of hope, in a time of deep darkness for those who have been shattered by the death of their child. Please help us spread that light of hope!

Gems from the Crown is a weekly blog from
Crown of Glory Ministries
to strengthen and encourage believers in Christ in their walk with God, especially in the areas of vision, authority, and identity. If you would like to have Gems from the Crown delivered directly to you,
please click here
.