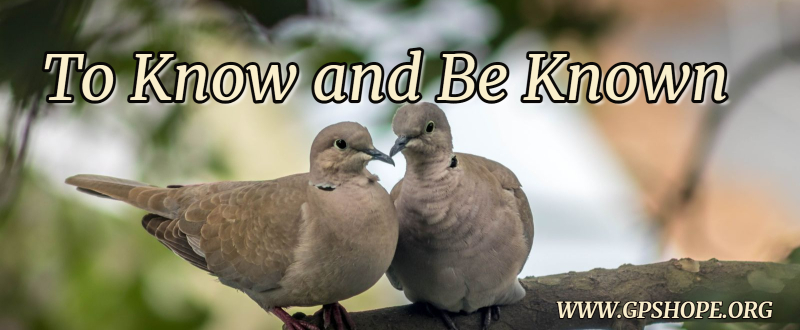 Recently one morning, as I was having a time of reflection with the Holy Spirit, I suddenly found myself fighting tears for no apparent reason with what felt like a sense of longing. I asked the Holy Spirit, "Why? What is going on?" and the words came to my mind "to know and be known".
The tears were released as I realized what a huge longing it is to be known, for who I really am; in all my doubts, in all my shame, in all my humanity of dark thoughts and messing up. But not just to be known in all of that, but to still be loved and wanted.
I suddenly had a much deeper realization; that is who God is in my life! He knows things about me that I don't even know about myself yet, and still loves me and wants me. He came to live inside me, even in all of that yuckiness.
I suddenly wanted to know Him. I mean really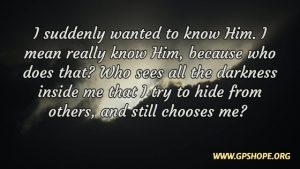 know Him, because who does that? Who sees all the darkness inside me that I try to hide from others, and still chooses me? That is a kind of love I want and need to be part of; to know and to be known. I want to know God in the same deep, intimate way that He knows me.
I was led to turn to Hebrews 12, starting with the verses about a great cloud of witnesses. God spoke so much to me in that chapter (reading from The Passion Translation).
Earlier this week, I shared some of those things in episode 199 on the Grieving Parents Sharing Hope podcast. If you would like to listen in, it's very simple and easy to do. Just click here, and then click on the play button. That's it.  (Or you can find the podcast on any of your favorite listening platforms.)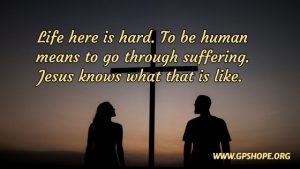 Life here is hard. To be human means to go through suffering. It is pretty amazing that Jesus came here as a human, and faced a depth of suffering greater than any of us ever will.  But God is with us, even when we cannot see or feel His presence. Jesus knows what that is like, because He felt the same way in His place of darkness.
God the Father, God the Son, and God the Holy Spirit are One. That means that God felt Jesus' pain as well. On the other end of that, there was the joy of His resurrection power, and that is what our children are experiencing and living in right now!
Someday, we will get to experience that also. Our time here will also be over, and we will be reunited with our children, experiencing the same glorious resurrection power. But until then, I want to encourage you to have hope that it can get better while you are here without your child.
I will even go so far as to say it will get better as you learn to not stay focused on what is missing, and instead begin to focus on the life you still have. Begin to focus on the fact that God not only knows you,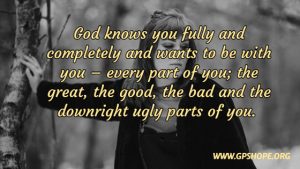 He knows you fully and completely and wants to be with you – every part of you; the great, the good, the bad and the downright ugly parts of you. And you have the opportunity to know Him in the depths of suffering that few others can, which means we also get to know Him deeply in His glorious resurrection power (Philippians 3:10).
Let yourself know Him and be known by Him. Allow that longing to be fulfilled. It is one of the greatest gifts you will ever have here on this earth, especially while you are waiting to "go home." After all, your child who is with Him now knows Him intimately. Why not do what you can right now to know and receive the depths of God's love, and to be able to experience as much as possible of what your child is experiencing right now?

Laura's newest book, Reflections of Hope: Daily Readings for Bereaved Parents will be available in a few weeks. To find out more, click here. You can also sign up to be one of the first ones to know when the book is available, along with a few bonus items you can receive if you order it right away.
Expressions of Hope is provided by Grieving Parents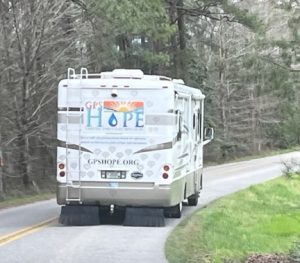 Sharing Hope (GPS Hope). The founders, Dave and Laura Diehl, travel full time in their Hope Mobile (a 38-foot motor home) to be more easily available for speaking and ministry requests, and bringing intimate weekend retreats to bereaved parents. Laura is also a singer/songwriter and the author of multiple award-winning books.
If you would like more information about bringing Dave and Laura to you for an event, please send an email to office@gpshope.org.
If you are interested in bringing GPS Hope to your area for a weekend retreat click here.