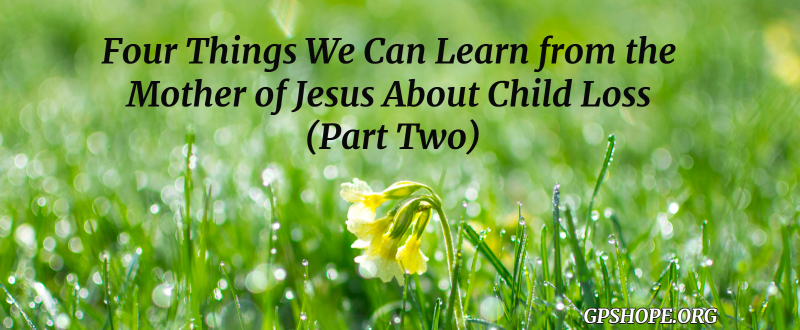 This is the time of year we think about and celebrate the birth of Christ. But have you thought about the fact that we can relate to Mary through the eyes of a bereaved parent? I recently spent some time studying this out and discovered quite a bit about Mary that I had not realized or thought about, until I had a child who died.
The first two things are in the previous blog you can read here. In this article, we are going to look at the last two things.
Third observation
One of the biggest things to notice is that Mary completely surrendered to the Lord's plans for her life, not knowing what that meant and how painful her future would be. In Luke 1:18 we find her telling the angel, Gabriel, "Behold the handmaiden of the Lord, (I am the Lord's servant) be it unto me according to your word."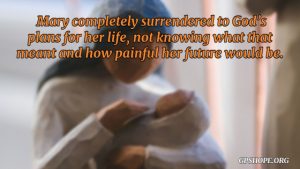 As we already noted, I am sure Mary had no idea that her son would die a very brutal death at the age of 33, and she would be there to watch it.
I used to think, "At least Jesus rose from the dead and came back to life here on this earth. I don't have that with Becca!" But as I was studying this out, I realized Mary still lost him permanently from this earth, because He was only here for 40 days and then He went to heaven.
The permanent earthly loss of her son here on earth was confirmed at the foot of the cross when Jesus looked down and gave his mom to the apostle John to take care of (John 19:26-27). This is also confirmation that his brothers still didn't believe who Jesus was because the next son in line should have been the one to take care of the mother.
We may not be able to relate to Mary's exact, unique grief, but she was a mom whose child died and left this earth for her remaining time here, which is something we can all relate to.
Fourth Observation
Mary watched her son die. Nothing could prevent this mother from standing by her son to the very end, no matter how brutal it was. I can't help but think that some of you have had the same experience of being with your child until he or she took their last breath. You know what that is like to be with them.
I didn't have that experience. My daughter, Becca, was in the hospital, with plans of being dismissed the next morning. The night of October 12, 2011 her heart was crashing, and she was fighting everyone, trying to get out of bed, yelling at them to leave her alone. Her husband told her to lie down and let them do what they needed to do and was kicked out of the hospital room. She died surrounded by a bunch of medical staff trying to save her.
I wish I had been with her, sort of… I think it has to be one of those bittersweet things. Those of us who weren't with our child don't have that as another image we have to get out of our heads.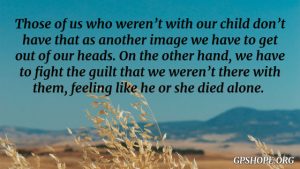 On the other hand, we have to fight the guilt that we weren't there with them, feeling like he or she died alone.
Did Mary have thoughts of "If only I had…" or "I should have…."?
Did she think about the last time Jesus gave her a hug? The last time they had a meal together? The last time she heard Him laugh? The last time she was able to say, "I love you?" I can't help but think that she did, because that is what the rest of us do.
The last mention of Mary is in the upper room with the other believers (Acts 1:14). Jesus had risen from the grave, but He had also left this earth permanently. What was that like? There must have been some intense grieving, knowing she had just gotten Him back and now He was gone, never to be here on earth with her again.
Knowing that Mary stayed with the group and was in the upper room when the Holy Spirit showed up in a big way, is an example to us that life can be worth living again. Mary knew she would see her son again. She figured out how to keep living, even within the grief.
Our children are alive also! They may not have come back for a few days after they died and then risen up in the clouds in their bodies, but he or she is alive and with Jesus! Thank you, Father that part of Your will for our lives is to reunite us with our children, never to be separated again.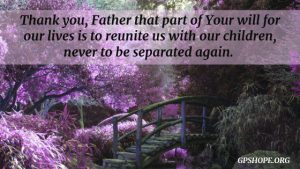 I want to wrap this up by looking at a scripture that talks about Jesus' mother in Luke 11:27-28. As Jesus was saying these things, a woman in the crowd called out, "Blessed is the mother who gave you birth and nursed you." Jesus replied, "Even more blessed are those who hear God's voice and make God's message their way of life". (VOICE)
If we take this scripture to heart, what is God's voice to us as bereaved parents? I believe it is that we have that exact same hope as Mary. We will see our children again, and we can fight our way out of the grief. I want to encourage you not to choose to remain stuck in the event of your child's death, but learn how to live in a way that honors the life of your child, just like Mary did.
And just like the Holy Spirit showed up in that upper room for those who were waiting for Him, I believe the Holy Spirit will show up for you. He will comfort you, and not only comfort you, but give you the strength to live out your life here with meaning and purpose, until it is time to join your child, and Mary and Jesus in heaven.

Until then, you might be interested in listening to the podcast series People in the Bible Who Lost a Child. Just click on each individual episode below to read the description and listen to it directly on the GPS Hope website. (You can also find each one on your favorite podcast app. Just look for the Grieving Parents Sharing Hope podcast.)
49: The First Death in the Bible was a Son Who Was Murdered (Adam and Eve)
50: The Rainbow Baby in the Bible (King David lost an infant son before Solomon was born)
51: Three Things we Can Learn from Jesus' Mother After the Death of Our Child
53: Trying to Find God in the Midst of Our Deepest Pain (A look at Job)
54: Why Did God Allow Me to Suffer Like This? (Job's suffering after the death of all ten of his children)
55: From Fullness to Bitterness to Fullness Again (Naomi)
56: Reunited with Our Children (Jacob and Jairus)
57: Our Grief is the Same, Yet Different (two groups in the Bible who had children mass murdered)
Note: On each podcast, I announce the name, birthday and forever age of our children who are no longer here with us, the week of his or her birthday. If you would like to share your child with our listeners, just click here to fill out and submit the form with the needed information.
Expressions of Hope is written by author,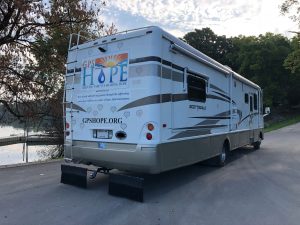 speaker and singer Laura Diehl. She and her husband, Dave, are the founders of Grieving Parents Sharing Hope (GPS Hope). Dave and Laura travel full time in their Hope Mobile (a 38-foot motor home) to be more easily available for speaking and ministry requests, including being invited to hold one-day GPS Hope & Healing conferences.
If you would like more information about Laura as a speaker for your next event or want more information on hosting a GPS Hope & Healing conference, click here.