By Bev Leckie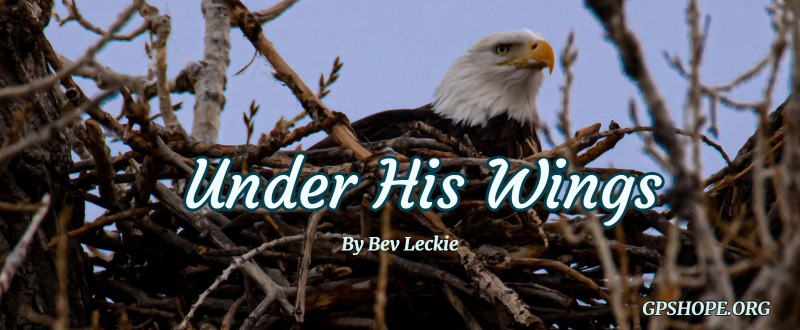 When my Mom passed away, she was finally honored for her love, for her faith, and for her persistence. We grew up with nothing, but we grew up with a mom who held on to her faith in the darkness of life.
She sang in the choir, but mostly she sang to her eight children in a Brooklyn "railroad flat", two bedrooms with four beds, bedrooms fully open one to the other, with all eight of us sleeping 2 to a bed, heads at different ends. Mom sat on one of the beds and began to sing the old hymns I still love, until we all fell asleep. She sang the songs of faith that tell me much more about my Mom and my God today than they did decades ago. And one of those hymns was almost always, Under His Wings, which was one of my mom's most favorite songs.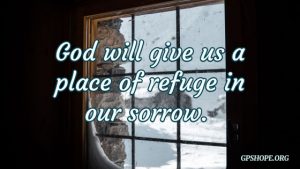 As much as Mom knew and persisted through a deep depth of darkness as she fought to bring her children to adulthood, she clung desperately to her faith. She begged God for the reality of the words that she sang. She yearned for her God, and she knew the refuge He could give in sorrow. And, yes, she hid beneath His wings of love, shelter, and protection until Jesus called her home to Heaven.
When my own daughter died, my Mom would have done anything she could to protect me from the ravages of pain and emptiness, questions, guilt, shame, and the isolating loneliness that the death of a child can bring.
My Mom could do none of that, but her words of truth, in time, penetrated my grief and sent me to the God who wanted to draw me close, cover me with His presence, and in a profuse outpouring, immerse me in the faithfulness of His promises.
Roy Lessin says, "Being under His wings means being close to His heart – you are not only sheltered, you are loved; you are not only secure, you are cared for; you are not only covered, you are reassured."
I have said many times that what I most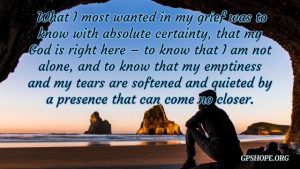 wanted in my grief was to know with absolute certainty, that my God is right here – to know that I am not alone, and to know that my emptiness and my tears are softened and quieted by a presence that can come no closer.
God's faithfulness, though, embraces both me and my child. It is a forever faithfulness, a faithfulness of redemption, and a faithfulness that transcends from temporal to eternal. It is a faithfulness consistent with His heart of love for both me and my child; a faithful love that longs to embrace both me and my child in the eternal perfections of Heaven; a place where my child can not only dance with Jesus, but some day, I too, can dance with my child.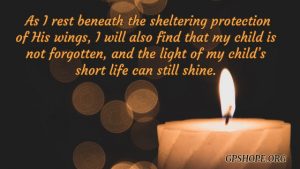 And while I wait in the temporal, God's redemptive faithfulness brings beauty from the ashes of tragedy. As I rest beneath the sheltering protection of His wings, I will also find that my child is not forgotten, and the light of my child's short life can still shine.
Under His wings, under His wings, who from His love can sever? Under His wings, my soul shall abide, safely abide forever. 
 Thank You, thank You, precious Father, for the faithful warmth of Your embrace.
(Related Bible reading: Psalm 91:4)
Bev Leckie's life has been a miracle of grace as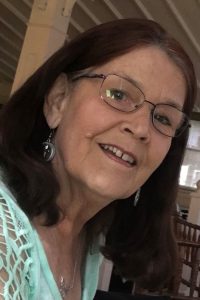 she has watched God transform a childhood and youth of dysfunction, abuse, and wrong choices, and then the death of her daughter after a full term pregnancy, into outreaches of compassion and understanding.
She has served alongside her pastor husband for almost 50 years in both South Carolina and California.  Having a heart for women, she has mentored those with abusive histories, and then found Umbrella Ministries, giving her both comfort and a connection through which she could share the comfort God has given her with other grieving moms.  And through it all, God has allowed her to write, ultimately focusing primarily on devotional writing for women, those who grieve or struggle in other areas, and those just called to do life. To contact Bev, email her at bleckie@sbcglobal.net.

Do you have a difficult time finding things that bring you comfort? We have put together a list of thirty ways on how to bring yourself comfort and take care of yourself after the death of your child. We know God is the ultimate comforter, but it can help when we know how to give Him something to work with and to flow through. 
Let us know below if you would GPS Hope to send you this list. You will also begin to receive a Weekly Word of Hope, that is easy to unsubscribe from if you no longer want to receive it.
Expressions of Hope is provided by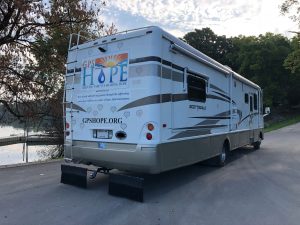 Grieving Parents Sharing Hope (GPS Hope). The founders, Dave and Laura Diehl, travel full time in their Hope Mobile (a 38-foot motor home) to be more easily available for speaking and ministry requests, and bringing intimate weekend retreats to bereaved parents. Laura is also a singer/songwriter and the author of multiple award-winning books.
If you would like more information about bringing Dave and Laura to you for an event, please send an email to office@gpshope.org.
If you are interested in bringing GPS Hope to your area for a weekend retreat click here.